Dallas police shoot and kill armed man in Far East Dallas
DALLAS - Dallas police say they shot and killed an armed man during a shootout in a Far East Dallas neighborhood.
Police responded to a call Wednesday just before 6 a.m. about a man in the middle of the street pointing guns at drivers and vehicles. They say the gunman refused officers' commands to drop his weapon and surrender before opening fire on officers.
SKY 4 was over the 10300 of Shiloh Road near Gus Thomasson Road hours after police were in a shootout that took place before sun-up.
"It was around 5:50 in the morning, and I heard about 20 gunshots," said witness Alicia Shook.
People who didn't want to go on camera told FOX 4 they saw a man who lives in the neighborhood standing there with a gun and pointing it at police and heard an officer yelling for him to put the gun down.
"After giving multiple commands to drop the weapon, the individual threatened officers with the weapon, firing at the officers," explained Dallas Police Chief Eddie Garcia. "At the same time, officers fired back at the suspect. He was struck and hit no officers were injured. The suspect was transported to Presby and announced deceased this morning."
Three squad cars and at least that many officers may have involved in the shooting incident. The patrol units were hit by some of the bullets.
By the number of evidence markers, there were plenty of shell casings.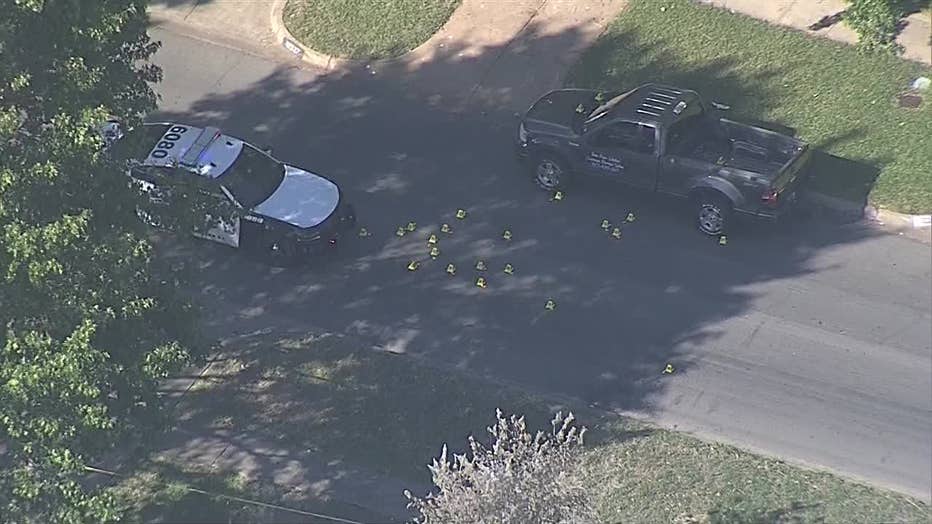 "Just waking up, it was just real confusing with all the shots because it wasn't stopping," Shook said. "Usually, I'll count them like 1, 2. But this one just kept on."
People in the neighborhood say the man lived in a nearby house with his mother. They say he stayed to himself and rarely talked to neighbors.
While the chief didn't talk much Wednesday, he promised a Thursday news conference.
Officers were seen collecting three long guns from the front porch and a pickup truck being taken away that neighbors said belonged to the dead man.
Shook learned from Facebook about the gunshots she heard two doors down from her home.
"It was pretty scary. You don't really here them that often around here as much as you used to," she said. "They sounded really close."
DPD says it will talk more Thursday about the person involved in this shooting and release some, if not all, of the video from systems in squad cars and that officers wear.
No one else was injured.