Dallas 14-year-old charged with murder after police chase ends in crash; innocent driver killed
DALLAS - A 14-year-old faces charges of possessing a gun, evading arrest, armed robbery and felony murder after a carjacking, police chase and deadly crash.
Dallas Police Chief Eddie Garcia said they're seeing a pattern of juvenile suspects, armed with guns, committing violent crimes in the city of Dallas.
He called it concerning.
"You are shocked. I mean, you are shocked that the individual behind that wheel was an armed 14-year-old kid," Garcia said.
Dallas police said the juvenile was driving a Toyota Camry that was stolen at gunpoint Monday night in East Dallas.
"The suspect, who possessed a handgun, the suspect demanded property, threatened her life and took her car," Garcia said of the carjacking Monday.
Officers spotted it early Wednesday morning in the same area.
They chased the suspect through Dallas, Balch Springs and Hutchins at high speeds for about 20 minutes.
The driver of the stolen car then ran a red light at Wadsworth Drive and Great Trinity Forest Way and crashed into a white Chevy Impala.
The innocent driver in the Impala, identified as Cordell Jackson, was killed. His passenger suffered serious injuries, but she was treated at a hospital and later released.
All four people in the stolen car, including three juveniles and one adult, were take to the hospital with non-life-threatening injuries. 
Police said the 14-year-old tried to run away but was caught.
Chief Garcia said the department is reviewing the case to make sure its pursuit policy was adhered to, but he added that the suspect caused the deadly crash when he sped through a red light.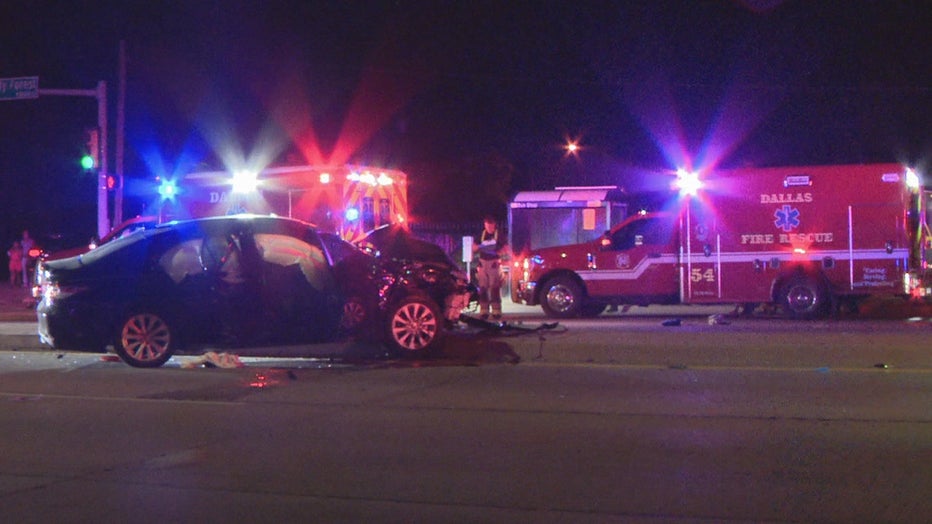 DPD policy allows officers to pursue when there is probable cause that someone in the vehicle committed a violent felony.
"We are currently reviewing all policies and practices and general orders with regards to our vehicle pursuit," Garcia said. "And unfortunately, the decisions made by a dangerous, violent carjacking suspect fleeing from our officers led to this tragedy."
Chief Garcia said the department is seeing a troubling increase in the number of juveniles committing violent crimes in Dallas, especially carjackings.
It's a problem he's working to address.
"Who's the next victim of a violent carjacking?" he said. "It's distressing to know that we're seeing more and more juvenile suspects."
Chief Garcia said the arrested 14-year-old driver will be charged with unauthorized use a vehicle, evading arrest, unlawfully carrying of a weapon, and murder. 
It's unclear if any of the passengers will face criminal charges.
RELATED: Man facing felony murder charges after 3 killed, 2 injured in Dallas street racing crash