Dallas police chase ends with crash, murder suspect's arrest
DALLAS - Dallas police caught a murder suspect on the run. But their high-speed chase took a wild turn when the suspect crashed into someone else.
There are still a lot of unanswered questions about the suspect.
The video of his attempted getaway is incredible.
SKY 4 followed along as the driver weaved in and out of heavy traffic Wednesday during the afternoon rush hour in southern Dallas County.
Police tried to stop him in the Red Bird neighborhood near Interstate 20 and Highway 67. They said he took off headed east on I-20 and at times driving 100 miles per hour.
Dallas police have a strict policy to fall back on when speeds get that high during a chase, but they were able to keep a close eye on him from the sky.
The suspect lost control a few minutes after the chase began. He was on an I-20 service road near Bonnie View Road in southeast Oak Cliff.
He hit another driver, forcing that car into a fence.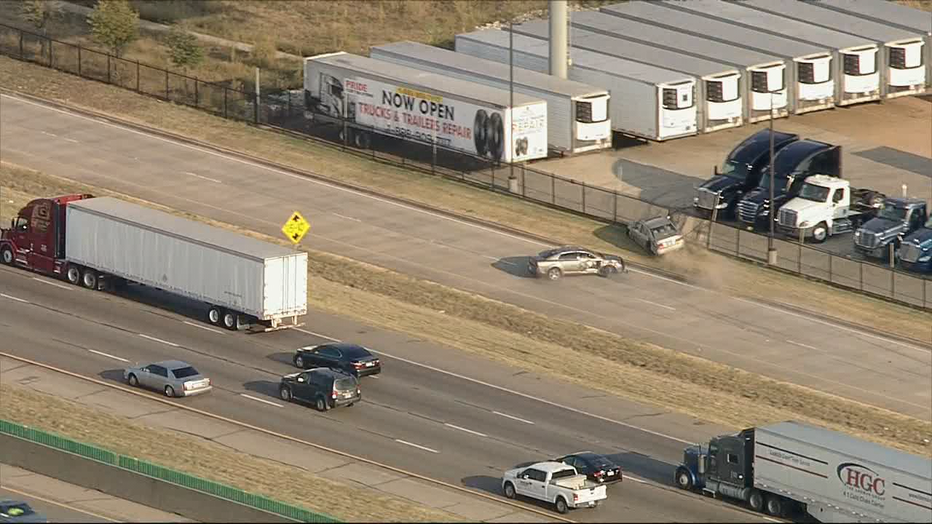 The suspect then got out of his disabled car and took off running.
SKY 4 followed him as he ran to a nearby trucking company. The first doors he tried were locked but he was able to slip in through another door that was closing as someone else was leaving.
Police ran in after him and brought him out in handcuffs about a minute later.
FOX 4 caught up with the driver who was hit on the service road. He was not seriously hurt and was surprisingly upbeat about the situation, even though his car was wrecked.
"I literally just left work, didn't even make it 30-40 feet. I see a car in my rear-view coming full speed hit me so fast all I had time to do was look at it and then get hit," said Gurienderpal Ghag. 
Even though he didn't mean to he helped the police in a way.
"Made me feel better about myself, feel like I did that good deed for the day," he laughed.
Ghag works for a car dealership in Dallas. His father who is the manager was able to show up and help him after the crash.
He said he knows that crash could have had a far worse outcome.
Dallas police have not released the suspect's name or any details about the murder he's connected to.
RELATED: Crime/public safety coverage