Dallas police begin new mentoring program with Big Brothers, Big Sisters
DALLAS - The city of Dallas and local law enforcement are ready to shape young minds with a new mentorship program.
The program called Big in Blue launched Thursday. It was developed through a partnership between the city and Big Brothers, Big Sisters. Students will be paired with a police officer or government official as a mentor.
The city hopes the program will give Dallas youth a stronger sense of citizenship and understanding of government.
The mentoring program takes kids out of the classroom and places them in the work environment of their big brother or big sister. For some, that's city hall or the police department.
Six students from Holmes Middle School in Dallas were brought to city hall Thursday to meet their big brothers and big sisters. For some, the connection was instantaneous.
Big Brothers, Big Sisters recently got a $25,000 grant to educate more children in the heart of the city. Many live in low-income neighborhoods where the relationship with law enforcement is strained.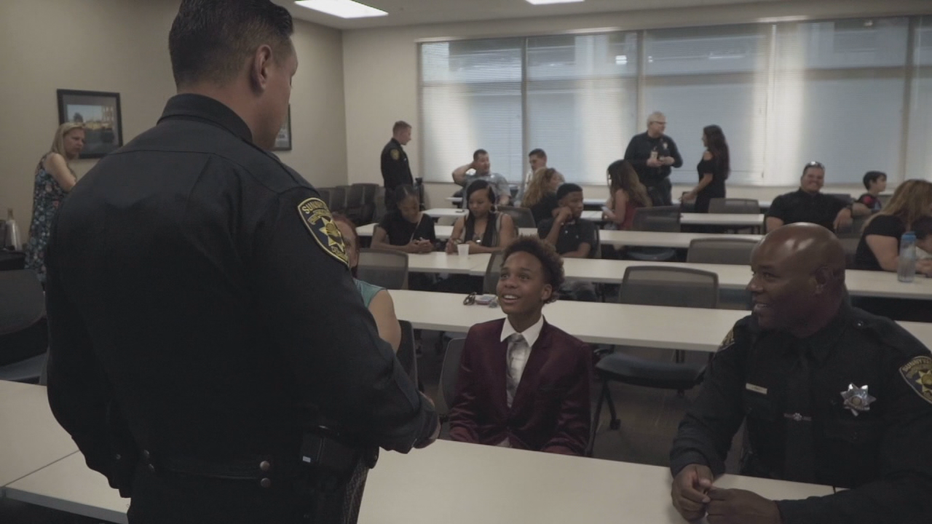 With that money, the organization created Big in Blue. They pair what they call a 'big' employed by the city, including Dallas police officers, with a 'little.'
"It's one of those things where it's important for young people to see the possibilities of what they can be. So being partnered with civic organizations and what better way in 2020 as we lead into an election year the young people are exposed to democracy in the most creative way," said Jamila Thomas, Big Brothers, Big Sisters' senior vice president of corporate and community engagement.
The pairs meet twice a month during the school year at an off-site location like city hall where they learn about government and the law.
For kids who can't leave school, Big Brothers, Big Sisters brings a similar program to them. First Friday with First Responders brings the mentors to First Family Academy.
On or off campus, it's a bond that benefits everyone involved.
Vincent Lewis was a Big Brother years ago, but he had to give up the commitment when he had his own kids. Now that they're grown, he's back.
The organization says there's a real need for male mentors in particular. They ask for a year commitment.
Link: www.BBBSTX.org/Dallas