Dallas pastor Robert Jeffress defends Trump's "shithole countries" comments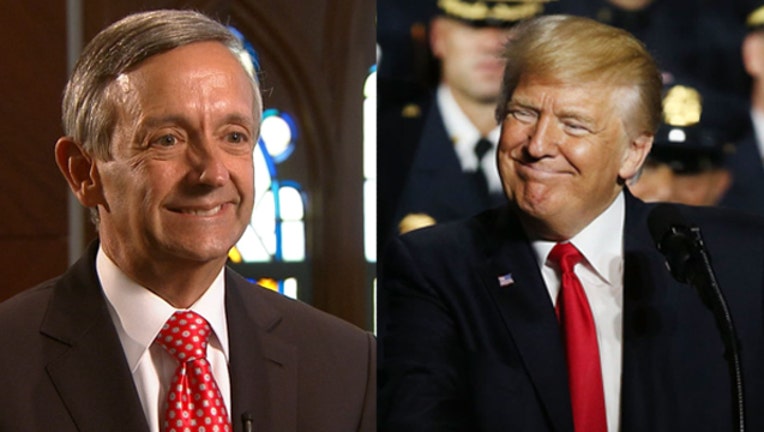 article
First Baptist Dallas Pastor Robert Jeffress defended explicit comments by President Trump, where he referred to Haiti and some African nations as "shithole countries."
Jeffress said Trump got the "sentiment" correct and he was "right on target" by questioning why the U.S. accepts immigrants from those countries during an Oval Office meeting with lawmakers.
"Apart from the vocabulary attributed to him, President Trump is right on target in his sentiment," Jeffress said in a statement, first released to the Christian Broadcasting Network and later shared with FOX4.
Jeffress tried to draw a distinction between Christian obligation and the politics of governing.
"As individual Christians, we have a biblical responsibility to place the needs of others above our own, but as Commander-in-Chief, President Trump has the constitutional responsibility to place the interest of our nation above the needs of other countries."
Jeffress also said he was "grateful" to have Trump as president and thanked him for the "courage" to protect the U.S.
Jeffress is an informal advisor to Trump and has visited the White House. He has repeatedly defended Trump over the past two years and has sometimes offered Christian theology as a basis for his defense.
Trump on Friday denied using certain "language," but didn't offer more specifics. Illinois Democratic Sen. Richard Durbin said Friday that Trump "said these hate-filled things and he said them repeatedly."
House Speaker Paul Ryan said on Friday that Trump's slur about Africa was "very unfortunate, unhelpful." Ryan said his ancestors were Irish and "were really looked down upon." He called immigration "a beautiful story of America " and said Africans in his hometown of Janesville, Wisconsin, are "incredible citizens."