Dallas-Fort Worth road conditions fine for most after snowy night
DALLAS - The roads are fine throughout most of the Dallas-Fort Worth metroplex. With temperatures above freezing Wednesday morning, the snow that fell Tuesday night has already melted or will melt soon.
Only a handful of school districts north and west of the metroplex will start late Wednesday because of leftover snow on the roads.
Bowie, Chico, Graham, Montague, Muenster and S&S ISDs delayed the start of classes by two hours. Bus routes will also be delayed two hours.
In Cooke County, Gainesville and Sivells Bend ISDs are closed for Wednesday.
MORE: North Texas School Closings & Delays
About 1-2 inches of snow fell in those areas closer to the Oklahoma state line where the schools are closed. Some of it actually stuck to the ground.
The wintry mix turned to steady snowfall in Gainesville around nightfall and reduced visibility. Some drivers pulled into parking lots or gas stations.
"Yeah, it's just hard to see far, you know, like long distance," a driver said. 
RELATED: Snow showers cover much of North Texas Tuesday night
People who drove through the more northern parts of Collin and Denton counties also had to hold on tight to their steering wheels as the roads became slick and dangerous Tuesday night.
"It was very slippery. My car was going all over the place," said Maribel Villarreal, who was driving on Interstate 35 toward Gainesville.
Customers at the Buc-ee's along I-35 in north Fort Worth watched large snowflakes fall after the sun went down. That quickly turned to slush covering parked cars and the grass but didn't build up on the ground.
RELATED: From slushman to giant snowman, North Texans show off their snowy creations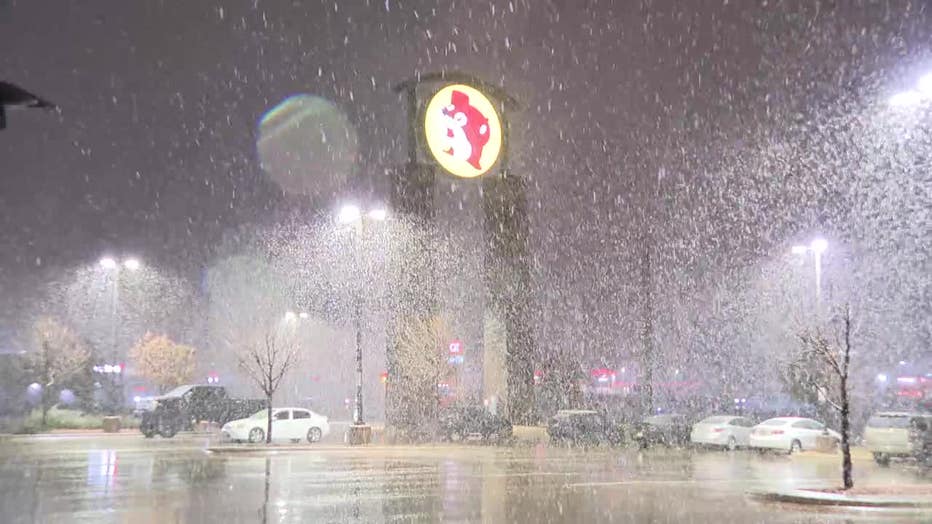 Snow falling Tuesday night at Buc-ee's in Fort Worth
"It was wet and slithery out there. Took my time on the highway just trying to get there," said Gary Dunkley, who lives in Fort Worth.
But as of 7 a.m. Wednesday, FOX 4 Traffic reporter Chip Waggoner said there were only normal rush-hour traffic delays on the roads in the metroplex.
Meteorologist Evan Andrews said the temperature is now above freezing for all of North Texas. Anything that did stick to the ground will melt soon enough.
"We were getting snow around 35-36 degrees yesterday evening. So, it snows. It sticks to the grass. It doesn't stick to the roads. That's the best kind of snow," he said. "It's all in the 30s [now]. Not only is it in the 30s but it's mid-30s so nobody's freezing. You're not going to run into a skating rink on the roadways. It's just wet roads."
MORE: Weather Updates & Forecast
It just didn't get cold enough in North Texas for widespread icy conditions and snow accumulations like those in Lubbock, Texas.
The National Weather Service in Lubbock said 6 inches of the white stuff fell in Roaring Springs on Tuesday morning.
 Dallas-Fort Worth Live Radar
7-Day Forecast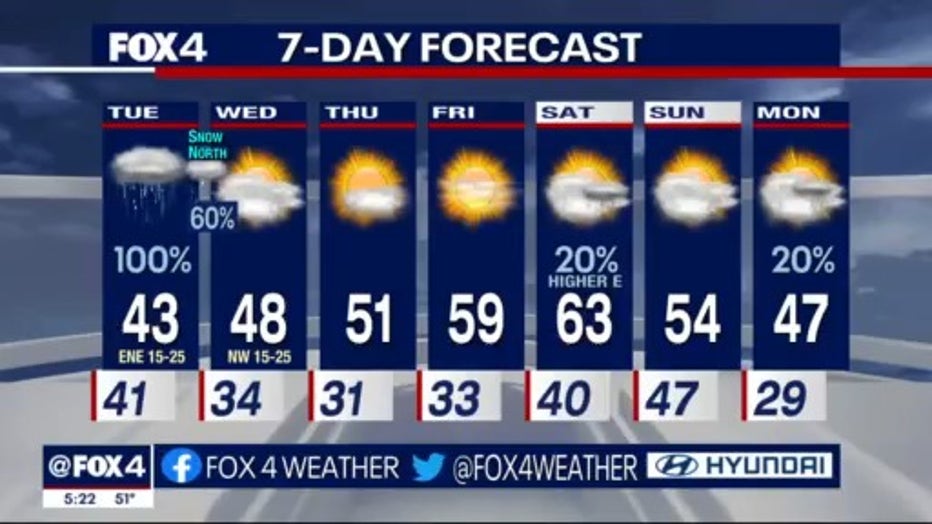 Things dry out after the system moves through the area.
Temperatures will be chilly for the rest of the week with lows in the 30s Wednesday through Friday.
Things warm up a bit heading into the weekend with a 20% chance of rain on Saturday.