Dallas weather: Snow showers cover much of North Texas Tuesday night
Snow showers covered much of North Texas after a change-over from the cold rain Tuesday.
The snow has been sticking to the grass, buildings and cars but not so much on the roadways. So far, the roads have mainly been just wet.
If the forecast holds true, it won't get cold enough to cause widespread icy issues on the roadways.
Nonetheless, drivers are being cautious.
DOWNLOAD THE WAPP FOR WEATHER UPDATES
A winter weather advisory went into effect at noon on Tuesday for Denton and Collin County as well as the areas north and west of the Metroplex.
Snow In Gainesville
The cold rain transitioned to snow pretty quickly as the sun came down.
A wintry mix late in the 5 o'clock hour fell near the red river at the Texas-Oklahoma border. Around 6 o'clock, roadways became a bit difficult to navigate. 
Felicia Carby is traveling to Dallas from Oklahoma City. She says she's been driving in snow her entire trip. She wishes she weren't traveling during these conditions.
"Hanging out in the snow instead of driving in it," she said.
She's not alone.
Efrain Medina is traveling from Nebraska. He's still heading south toward Mexico. He's ready for conditions that are easier to navigate.
"Pretty nasty. Pretty ugly. It's just hard to see far like long distance," he said. "Hold the wheel steady and just make sure I'm doing okay.
A steady line of snow was visible along I-35 around 6 p.m. When pulling over to a gas station, you could clearly see up near the lights how fast it was coming down, even sticking to spaces in the parking lot and gas station pumps.
"I thought it might be more icy, but it's not as icy as I thought," Carby said. "It's kind of hard. But as soon as it hits your face, it melts."
Snow in Denton
In Denton, it was the same story.
The rain changed to snow after rush hour and accumulated – a bit.
There is some accumulation of snow in the grass, but the ground temps aren't cold enough for it to freeze on the road. 
We first saw a heavy sleet turn into snow in Sanger. 
The temperatures continued to drop all night, but the ground temperature kept conditions from getting too icy.
It has been raining most of the day ahead of this snow, so the roads can be slick in spots.
We expect slushy roads by the end of the night, but nothing like previous years' snow and ice storms.
We talked to some drivers, one heading up to Gainesville, the other heading back south into the metroplex. 
"It was very slippery," said driver Maribl Villarreal. "My car was going all over the place. It's dangerous to drive right now. I'm on a text with a friend that he is supposed to pick me up. Will probably park the truck and wait it out in Denton. At least tonight or whenever it stops."
"We've been coming through it from the north side. Then over by Sanger, and now we are going home," said driver Justin Plaisance. "This is getting worse. It's starting to catch up. We have been in this for the past 45 minutes to an hour."
So far, there have not been any major weather-related accidents on I-35 heading back into Denton. 
Snow in Fort Worth
Snow came down pretty heavy at the Buc-ees in far north Fort Worth off I-35 and Highway 114. The snow has been coming down at a steady rate.
Around 7 p.m., a snow shower passed through north Fort Worth near Texas Motor Speedway where it came down quickly. It's been snowing ever since.
Gary Dunkley was headed from South Fort Worth to North Fort Worth for a job interview, traveling into the thick of the snow as it passed through.
"I knew earlier today it was going to snow, but I didn't know it would come this quick," he said. "It was wet and slithery out there. I took my time on the highway just trying to get there."
MedStar says it responded to 44 crashes, and 19 people had to be taken to the hospital.
Temperatures are expected to stay above freezing, so you shouldn't expect any snow to stick around until the next morning. 
There likely won't be any major impact on the roads, but TxDOT is not taking any chances.
SKY 4 spotted road crews treating roads across North Texas on Monday ahead of the bad weather.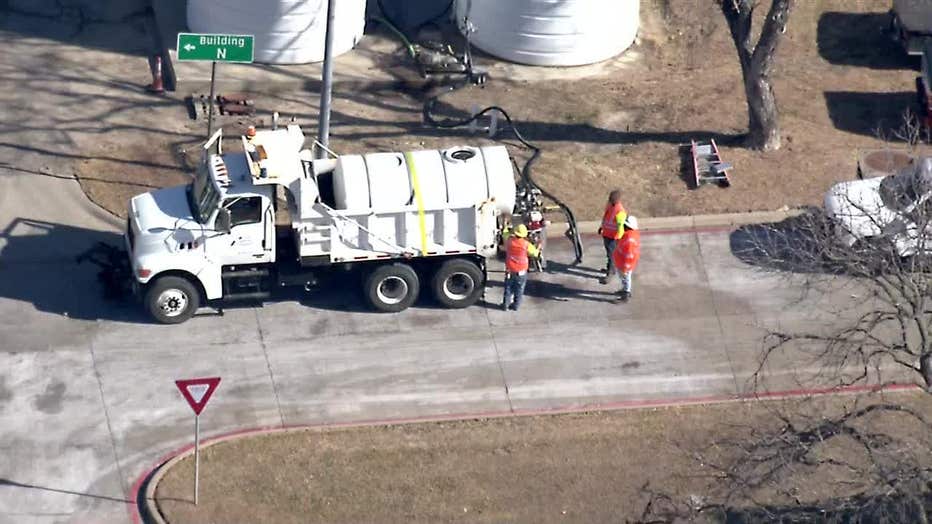 Areas north of DFW are seeing lots of snow.
The National Weather Service in Lubbock says 6" of the white stuff fell in Roaring Springs on Tuesday morning.
Dallas-Fort Worth Live Radar
7-Day Forecast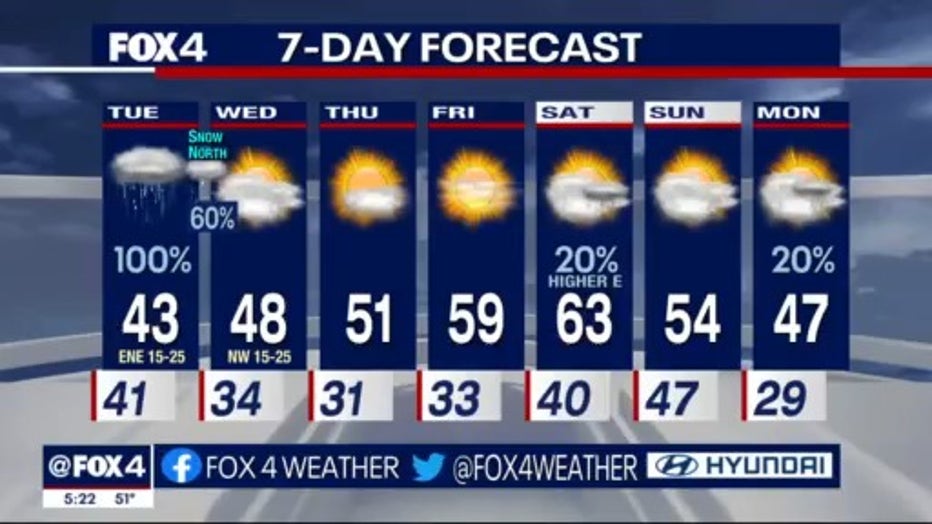 Things dry out after the system moves through the area.
Temperatures will be chilly for the rest of the week with lows in the 30s Wednesday through Friday.
Things warm up a bit heading into the weekend with a 20% chance of rain on Saturday.