Dallas Cowboys owner Jerry Jones blasts report that anonymous players ripped coaching staff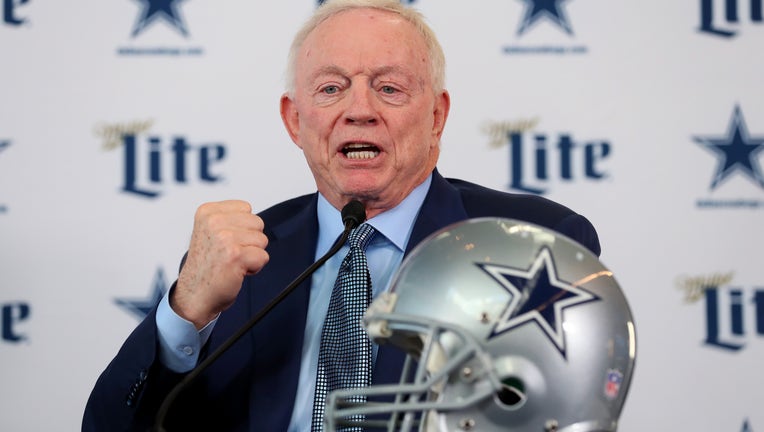 article
DALLAS - An angry Jerry Jones ripped the NFL Network reporter who reported that some Dallas Cowboys players ripped their coaching staff.
But the report did not name any names.
And then when some radio hosts he was talking to Friday stood up for the reporter, the Cowboys owner went after them.
Jerry Jones got a little hot and bothered when asked about the anonymous comments made about his coaching staff.
Jones says those anonymous comments have "no credibility."
He was all too eager to change the topic.
"This is not excuse city this morning at all. I know I'm starting this way," Jones said.
Jones was on the defense during his weekly call-in to 105.3 the Fan.
"Our team has a lot to overcome that we hadn't planned on," he said.
The Cowboys fell to 2-4 Monday night with the loss to the Cardinals.
They've committed an NFL high 15 turnovers in the first six games.
And the defense is ranked last in the league in points allowed.
On Tuesday, the NFL Network's Jane Slater reported several players, who spoke on the condition of anonymity, said the staff, including head coach Mike McCarthy are "totally unprepared."
RELATED: Anonymous Dallas Cowboys players rip coaching staff
Another player reportedly added, "They just aren't good at their jobs."
Jones got a bit testy when asked about it by the radio hosts.
"You mean my coach might not know what he's doing? Do you think that has any credibility to me what someone wrote anonymously?" Jones said.
[RADIO HOST: "From the reporter, I think it's credible, yes."]
"Credible what?" Jones responded.
[RADIO HOST: "We trust the person who said it."]
"Bull (expletive). You're so full of it. I mean it. Get it on out there reporter, and say who said it," Jones said.
Players asked about the anonymous comments this week brushed it off.
Jones appeared to be doing the same.
"It might be news fodder to roll out and entertain me and others," Jones said.
McCarthy has said he has an open-door policy for players and staff to come and talk to him.
Jones is confident in his abilities.
"Don't think Mike McCarthy ain't a big boy and got big shoulders and can't handle anything they want to throw at him," Jones said.
The owner said his focus is on winning games and not on what he equates to gossip.
"It is so irresponsible we're wasting some good time. My goodness, if I sent my life some decisions based on innuendo or something I read in the paper I'd be a sick puppy," Jones added.
Jones said he has every confidence in McCarthy, and that McCarthy has been through good times and bad, and that makes him the right man for the job.
The 2-4 Cowboys will play the Washington Football Team Sunday afternoon.
The game will air on FOX 4 at noon.