Dallas County vaccinates people without appointments, sets up hotline for registrations
DALLAS - Dallas County's first and only day Friday to vaccinate people over the age of 75 on a first come, first serve basis went smoothly.
But the county judge says the county will return Saturday to an appointment-only system. The county has now rolled out a hotline for people who need to register by phone.
With efficient lines and cheerful staff, the wait for shots at Dallas Fair Park Friday was not bad.
The county opened vaccinations to anyone over 75 and even those without scheduled appointments.
Dallas County Judge Clay Jenkins says the county will return to appointment-only starting Saturday.
"We need to include seniors from zip codes with the highest spread," Jenkins said. "It's not happening with first come, first serve."
The first come, first serve approach was authorized for Friday after a breach in the appointment system.
Dallas County Health Director Dr. Philip Huang explained the issue started because people signing up for the vaccine began sharing the appointment link with those who were not in their target group and that's who was showing up.
Huang said those people were sent home, but that left the county with vaccines that needed to be used. The county reached out to community leaders in underserved areas letting them know there was an opportunity to get the vaccine. What came next were long lines and lots of finger-pointing.
RELATED: Finger-pointing over COVID-19 vaccine eligibility at Fair Park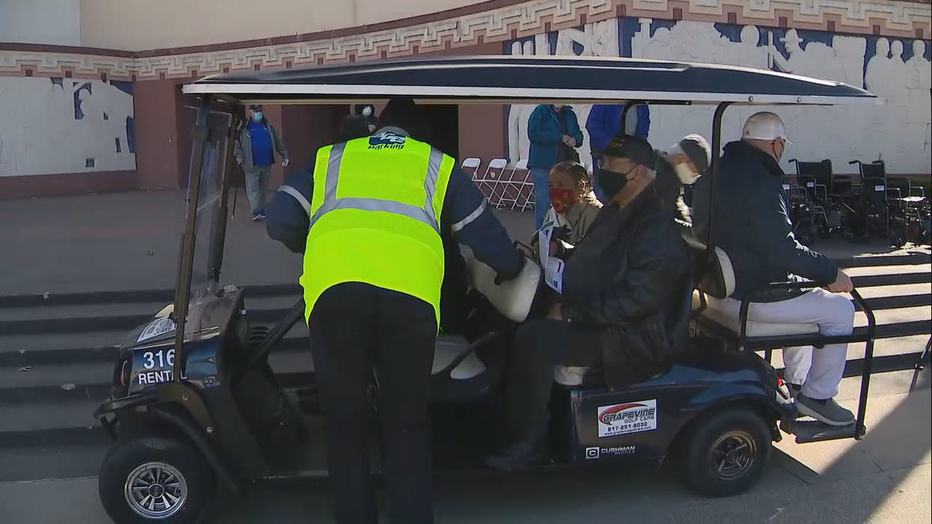 After the confusion, Dallas Mayor Eric Johnson visited the Fair Park site again Friday to talk to people going through the process. He urged residents to contact their state lawmakers to ask the governor to allocate 10,000 doses a week to the Dallas Office of Emergency Management so vaccine distribution can happen "more quickly, more equitably and with transparency."
The county is getting some pushback for being closed Sunday and again Monday for Martin Luther King Day, a holiday when many people will not be working.
"That won't lead to any less people being vaccinated because we only have 9,000 for the week," Jenkins said. "At 3,000 a day, we'll be able to get through that pretty quickly."
Jenkins says as production ramps up, things will get better.
"The state can only give out what they are getting, and they are doing that."
Dallas County asks people to register online at www.dallascounty.org/covid-19/covid-19-vaccination.php. But there are already more than 220,000 people on the county's waitlist.
Dallas County's new hotline number to register for the vaccine by phone is (469) 749-9900.
Find & Register for a Vaccine
TEXAS DSHS VACCINE INFO: The state health department has lists and maps that are updated regularly with vaccine provider and allocation information. www.dshs.texas.gov/coronavirus/immunize/vaccine.aspx  
DALLAS COUNTY: To get a vaccine at Dallas County's COVID-19 vaccine mega site at Fair Park, residents must register online at www.dallascounty.org/covid-19/covid-19-vaccination.php. The county is currently working on setting up a hotline for residents without a computer. For all other COVID-19 inquires, call 972-692-2780. Hours of operation are Monday-Friday 9-5 p.m. The county is also encouraging all residents to check the list from DSHS or reach out to their current healthcare provider to find a vaccine.
TARRANT COUNTY: Tarrant County can register for a vaccine appointment at tcph.quickbase.com/db/bq3q4uet8. Residents who do not have access to a computer can call 817-248-6299. Hours of operation are Monday-Friday 8-5 p.m.
DENTON COUNTY: The Denton County Public Health Department is currently at capacity. Residents are encouraged to register online at DentonCounty.gov/VACCINE or DentonCounty.gov/COVID19vaccine.
COLLIN COUNTY: The Collin County Health Department's waitlist and vaccine registration website is located at www.collincountytx.gov/healthcare_services/Pages/COVID19vaccines.aspx. For questions, contact 972-548-4744 weekdays from 7:30-11 a.m. & 1-4 p.m.