Dallas apartment explosion residents report break-ins, items stolen from their apartments
DALLAS - Exactly two weeks since a gas explosion at the Highland Hills Apartment complex in Southeast Oak Cliff, there is a good update on some of the firefighters hurt in the blast.
Meanwhile, displaced residents are being hit with a new round of discouragement. 
The three injured firefighters who remain hospitalized at Parkland Hospital continue to improve, but displaced Highland Hills Apartment residents can't seem to catch a break.
Many of them have been staying at hotels since the explosion happened, and on Wednesday, they got word that several of their units got broken in and valuables were stolen.
"Someone tried to burn my apartment down and as soon as I walked in, my TV was gone," Roshunda Tilley.
Several residents, like Tilley, returned home to find their units had been broken into overnight.
"The neighbors called and told everybody they need to come check on their apartments because their doors got kicked in," Tilley explained.
The single mom said five TVs and several gaming systems were stolen.
At least six units were reportedly broken into.
Dallas police officers were on scene Wednesday taking reports and dusting for prints. Police said they made an arrest Wednesday morning after getting a report of a burglary at the apartment complex.
Resident Dee Dee Walker had this to say to the culprits.
"You all are low. We're already homeless. Our stuff is locked up. We can't live in our own place, and you come and steal from us," Walker said. "You're a weak individual. You're going to get everything coming to you."
Residents said there was supposed to be a security guard patrolling the property.
FOX4 contacted management at the apartment complex to see if one was on duty at the time of the burglaries, but they said "no comment."
RELATED: Dallas apartment explosion injures 8, 3 firefighters in critical condition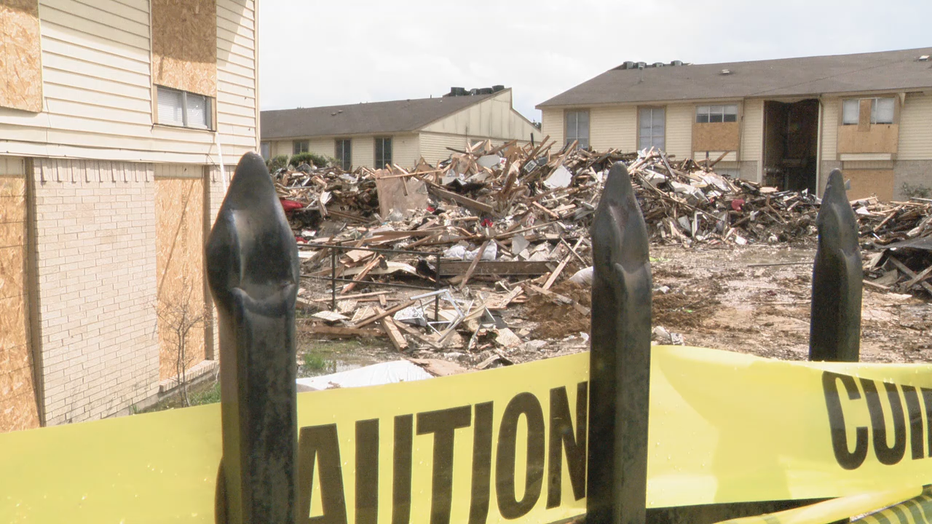 For the first time since the explosion injured four Dallas firefighters, there is an update on their tedious but encouraging recovery.
As of Wednesday, three remain hospitalized: Christopher Gadomski, Ron Hall, and Pauline Perez.
Andrew Curtis had a foot injury following the explosion, but was released from the hospital the day of the explosion.
Hall's wife shared photos of the firefighters at Parkland Hospital on social media.
The trio got a much-needed surprise visit from their brothers and sisters at Station 25 earlier this week.
They were able to go the hospital courtyard to get some fresh air, share stories, and thank their medical team.
Hall saw his injured captain, Gadomski, for the first time since the blast.
He asked to be rolled out into the sun so he could feel the sunlight on his face.
RELATED: 3 firefighters still hospitalized a day after Dallas apartment explosion
His road to recovery is long.
Hall has second-degree burns on 28% of his body, with arm and leg injuries.
Still, his family and friends, say his heart is filled with love and gratitude.
RELATED STORIES:
Authorities still investigating cause of Dallas apartment explosion
Dallas apartment explosion residents moved to second hotel as repairs continue