Bricks hurled at truck carrying mother, son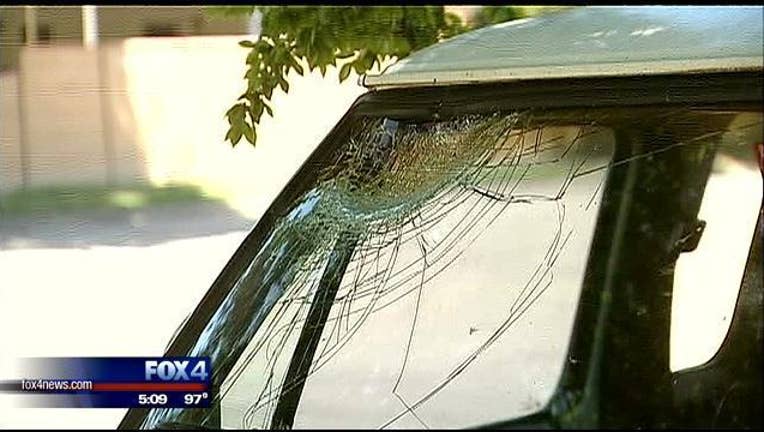 article
A Plano family's trip home from the airport turned into a dangerous attack Friday night.  They claim three teenagers hurled bricks at their truck and fled the area. Dallas Police say it could be a gang initiation.
The family is now warning other drivers.
Dallas police are looking for the three teens, around the ages of 14-17,who maliciously targeted the Rose family who were driving home from Love Field Friday night and  suddenly found themselves under attack.
Just before 10 p.m. Kimberly Rose and her son Kevin drove past Frankford Road on Midway in the far right lane when Kimberly made eye contact with a teen.
"I guess he was just aiming at what he was getting ready to throw bricks at," Kimberly says.
That's when Kimberly says that the teen and at least two others targeted her family's truck.
"My windshield exploded. It was like pow pow pow! I wasn't even sure if it was gunfire it was so loud," Kimberly explains.
"We were having a conversation and then I heard a loud pop, the glass broke and I could feel it down the side of my neck," Kevin says.
You can still see skid marks where Kevin, who was behind the wheel, managed to stop the car about a hundred feet away.
"I thought, I can ask those kids what happened, what hit us, and that's when I was like, wait a minute, they're not there," Kimberly says
Instinct told Kimberly to stay in the car, which may have been spot on.
"We found out from cops that was probably the best idea, is to wait until somebody got there because they told us sometimes it's a gang initiation and they wait on you to get out and beat you and take your money," Rose says.
The teens took off down a nearby alley but left the family's 1992 pickup truck with nearly $1,000 in damage.
Kimberly says financially it's pretty hard right now and then this happened. She's a single mom who just returned to work part-time after being off on disability. 
Even though it's financially tough, if there had to be a target that night, the Rose family is glad it was their slow old farm truck that goes 35mph.
"If anybody had been going faster like they do, or a smaller car, I think it would have probably gone completely through the windshield," Kimberly says.
Aside from small cuts, both Kimberly and Kevin are okay. The family says investigators told them similar incidents are known to happen in South Dallas and only recently are they aware of these attacks happening up north.