Band member seriously injured in Deep Ellum hit-and-run
DALLAS - A drummer says he confronted a person trying to steal from his band's van in Deep Ellum.
In the process, Corey Dill was attacked and then run over in an alley.
The band, "Brother Moses," was in Dallas Tuesday night. They were minutes away from playing a set at Deep Ellum Art Company, when two of the group members encountered a guy stealing from their van.
Moses Gomez said the suspect had punched in the lock to the driver-side door. Gomez and drummer Dill gave chase.
The crook ran into a nearby alley.
"At the end of the alley, there was a truck waiting for the man. Corey caught up to him," Gomez said. "It seemed like he was trying to get him out of the truck but then the truck peeled off and then the truck did get him did run over him."
A nearby business provided Dallas police and FOX4 with surveillance video believed to show the getaway driver and pick-up truck parked in the alley, off hall and clover. The distinctive truck is believed to be a dark grey 2015-18 GMC Sierra with a sectional cover over the bed and aftermarket chrome wheels and smaller tires.
The camera also captured this blurry image of the guy who reportedly broke into the band's van.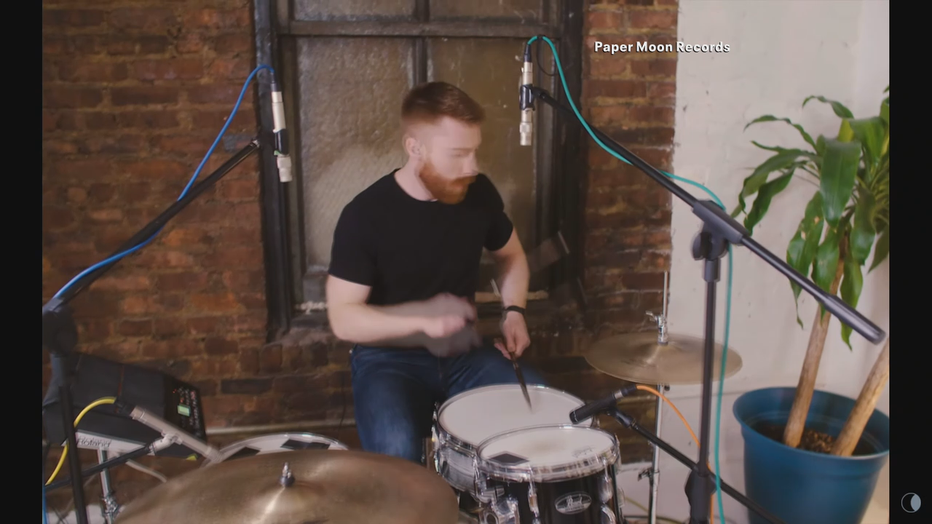 Dill, 28, who got run over by the truck, was badly injured. He has a fractured pelvis, he sustained multiple facial fractures, broken clavicle. He broke his nose and also suffered injuries to several internal organs.
Moses was overcome with emotion when trying to recount what he saw.
His fellow band members surround him with the same love and support they've been showing dill who remains at Baylor Medical Center.
Dill recently underwent his first to repair his pelvis. Despite the pain, they said his spirits remain high and he's determined to recover and play drums again.
"It's a horrible thing that happened to him and it's awful and tragic but it's also inspiring to watch him handle it as well as he is," Moses said.
The band has set up a GoFundMe to help his wife with medical expenses.
Anyone with information related to the incident is asked to call Dallas police.