Arlington man who did donuts during Austin street takeover, led police on chase charged
AUSTIN, Texas - A man from Arlington who police say was doing donuts and burnouts in Austin over the weekend was arrested and has been charged.
Videos on social media showed people throwing fireworks at officers who were trying to break up the takeover. 
The Austin police chief said there were four different street takeovers through the night and early morning, pushing Austin's limited police resources to their limit. 
According to court documents, 23-year-old Jerry Gore was in a Camaro drifting in the intersection of the I-35 access road and East Anderson Lane late Saturday night when DPS troopers arrived. Police say he was one of hundreds of people participating in the takeovers.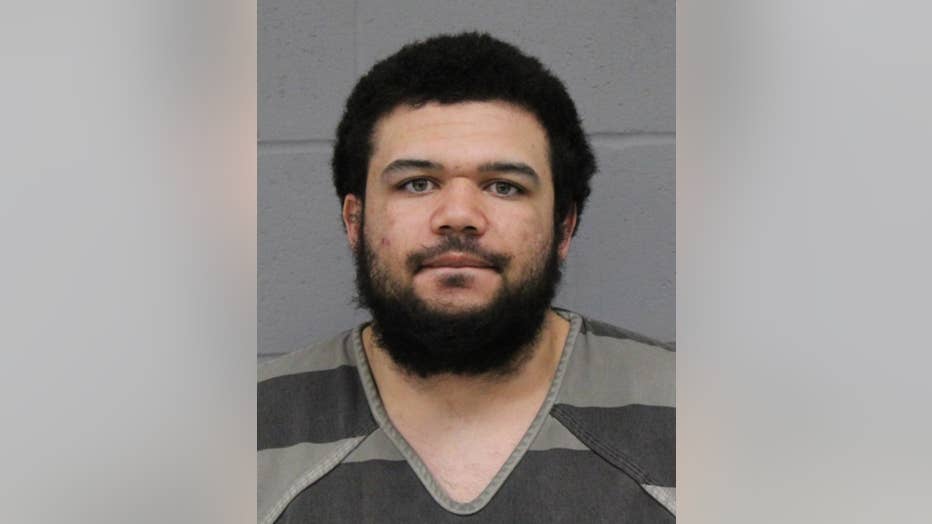 Officers said the Camaro and a Dodge Charger nearly hit pedestrians who were standing in the roadway.
READ MORE: Multiple arrests made in ongoing investigation into Austin 'street takeover'
When a DPS trooper turned on his sirens, the cars took off, reaching speeds over 150 miles per hour, according to an arrest affidavit.
The Camaro, which was being followed by a DPS helicopter, eventually pulled over at a 7-Eleven.
Troopers found numerous magazines and two loaded firearms inside the vehicle, according to court documents. One of the guns was a short-barrel rifle that was confirmed to be stolen in Dallas.
Gore allegedly told troopers he drove from North Texas to Austin specifically for the street takeover.  
READ MORE: Officer injured, police cars damaged in street racing incidents: APD
While Gore was in custody, troopers noted that he made up a song where he said, "there were guns in the car."
Gore was arrested for theft of a firearm, evading arrest with a motor vehicle, obstructing a highway during exhibition, reckless driving and unlawful carrying of a weapon.
Timeline of Austin Street Takeovers
At a news conference Tuesday, Austin Police Chief Joseph Chacon described the chaotic scenes starting around 9 p.m. with no police units to send initially as they were on other calls.
Additional units were called in as fireworks were thrown at the responding officers. Police managed to disperse the crowd at 9:46 p.m. 
Then less than an hour later, a second takeover. That was the one where investigators say they spotted Gore. Police dispersed that scene.
But then just before 1 a.m., a third takeover that turned even more violent.
"Officers arrived and were met by a hostile crowd that threw rocks and bottles at them and pointed lasers at them and vehicles," Chacon said.
The car clubs just continued to go to other areas of the city, communicating through encrypted messages. 
The mayhem continued until 4 a.m. 
"We had one officer sustain a non-life-threatening injury," Chacon said.
The chief says he was aware of a tip from San Antonio prior to Saturday night about a takeover event but had no specific information about when or where.
A reporter asked the chief if he would consider creating a specialized street racing task force like Dallas police did, going citywide in 2020.
"Staffing is not at a level where I can create another specialized unit," he said.
A Dallas street race turned deadly in April 2021 when 54-year-old Lynetta Washington was killed by stray gunfire. DPD later increased its crackdown with tickets and arrests. 
A DPD spokeswoman said most street racing is now occurring in the surrounding Dallas suburbs.