Attorney for McKinney teens demands charges against former officer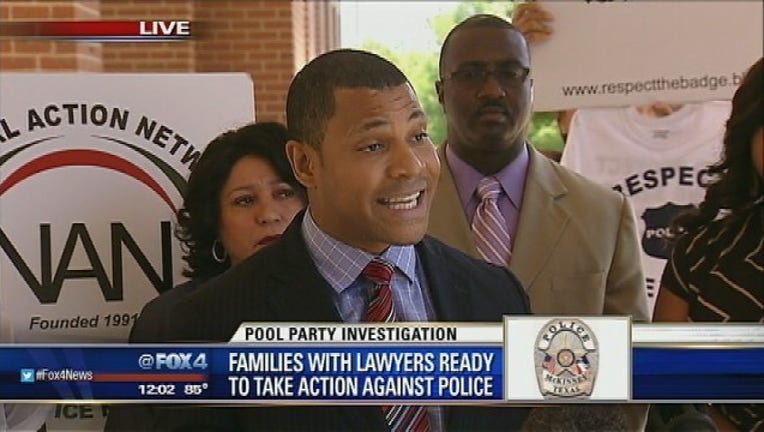 article
Lawyers and families of several teens who say they were mistreated by former McKinney police officer Eric Casebolt held a press conference Friday demanding justice.
Attorney Kwame Thompson said he represents five families who live in Craig Ranch. He claims their children were assaulted and battered by Officer Casebolt.
There is cellphone video of Casebolt responding to a 911 call about teens fighting and trespassing at the community swimming pool. It shows him throw a 15-year-old girl to the ground and pull a gun out on others.
However, Thompson said his clients posed no threat to the officer because they are residents of the community and had every right to be at the pool that day.
Thompson said their civil rights were violated and they are emotionally distressed because of what happened.
He demanded that Casebolt be arrested, tried and convicted for his crimes against the children of McKinney.
He plans to file a complaint with the McKinney Police Department and will be meeting with the Collin County District Attorney's Office.
Casebolt has already resigned from the department, but the families don't want him to work in law enforcement or be allowed to carry a gun again, Thompson said.
Earlier this week a woman who fought with some of the teens before police arrived spoke out with her own high-profile attorney, Gloria Allred, by her side.
"Dozens of non-residents began jumping the fence into the pool area," Tracy Carver said. "My decision was to gather my children and my grandchild and go home to avoid any issues in light of what appeared to be unfolding very rapidly…they were shouting, 'Go Home! Bye, Bye black haters.' It was nearly impossible to exit the gate because it was lined almost three rows deep with unruly, disrespectful, violent teens and young adults."
Carver said she has received death threats and was forced into hiding because of the incident.

An attorney for Casebolt said he is sorry for letting his emotions get the best of him. He had responded to two suicide-related calls earlier that day.