2 suspects sought after 3rd suspect shot in attempted carjacking in Dallas
DALLAS - Police are looking for two suspects who fled the scene of an attempted carjacking Friday evening that resulted in another suspect being shot.
The shooting happened just after 6:30 p.m., in the 5600 block of Lovers Lane, between Inwood and the Dallas North Tollway, just west of University Park.
The third suspect was shot and taken to a nearby hospital.
This happened at a popular shopping center made up of restaurants, salons, a grocery store, and plenty more.
On Saturday, people were still talking about the bullets flying through the air the night before.
Police said the shooting came during an attempted carjacking.
They have not released many details about the crime, but one witness said he and his family were inside the restaurant Odelay, when they heard more than a dozen shots outside.
He said they went to the restaurant's kitchen to hide with other families.
"Well, I was sitting there on my computer, working on my website, and then I heard several gunshots like in a row," recalled Peyton Baker, who works nearby. "First off, it sounded like it was like right in front of my building, and I was like, wow, I hope they didn't see me like before I just jumped down here."
She called 911 while she hid for safety.
"Threw myself to the ground and got under [my desk]," Baker added.
Police told FOX 4 that an "uninvolved party shot one of the suspects while they attempted to carjack the victim. The victim was threatened and shot at with a short-barreled rifle."
Police said that suspect is at a hospital in stable condition. They are still searching for the other two suspects.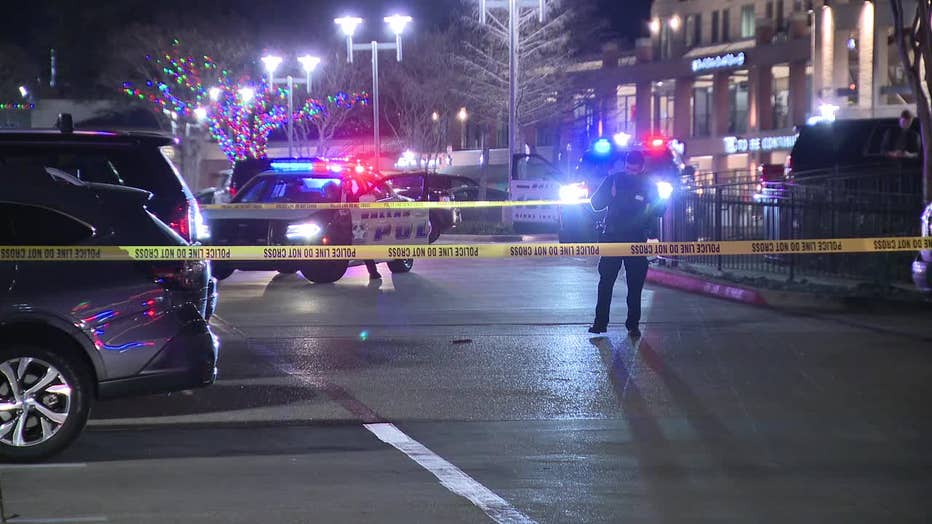 RELATED: Suspect shot during attempted carjacking at Dallas shopping center, police say
It has some people who use this shopping center a bit nervous.
"I don't know. Honestly, you just have to be just extra careful. I've been thinking about possibly going, doing a few classes and maybe even getting my own type of just protection because it just really feels like everyone is on edge lately," shopper Kiara Butler said.
Officers and crime scene investigators were back on scene Saturday. Police said detectives are collecting surveillance footage and speaking with witnesses.
There was one vehicle with multiple bullet holes being examined, though police have not confirmed further details about this shooting.