Athena Strand honored by North Texas communities
PARADISE, Texas - Several communities are coming together to honor and remember the 7-year-old killed last week in Wise County.
FOX 4 did request a copy of the arrest affidavit, which would include additional details of the crime but found out it has been sealed.
Tanner Horner remains in jail on a $1.5 million bond.
The community, meanwhile, is coming together to remember Athena Strand.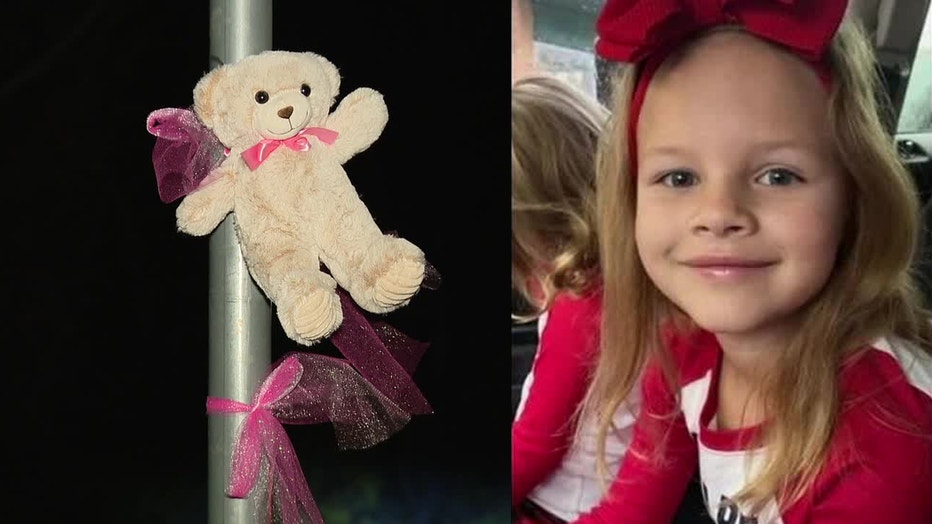 At schools across North Texas Monday, students and teachers wore pink in honor of the 7-year-old.
Pink ribbons and Athena's name were also on display at the Paradise ISD Elementary School she attended for a short time. Pink was her favorite color. 
"We all have kids. Strangers in and out of our kids' lives all the time. You just never know," said parent Stephanie Wickham.
The Wise County sheriff says the contract FedEx driver confessed to the little girl's murder. He remains in jail charged with capital murder and aggravated kidnapping.
Horner was delivering a package to Athena's home last Wednesday afternoon around the time she vanished.
During the draining two-day search for the child, the FBI says digital evidence led to Horner.
The sheriff says he has no apparent connection to Athena's family. After his arrest, he told investigators where to find her body just southeast of Boyd.
"When stuff happens in Wise County, it just goes to show how tight knit and supportive we are of everybody even if we don't know them personally," said parent Ethan Holley.
The show of support continued Monday night.
Wise County Judge J.D. Clark organized a vigil outside the county courthouse. He led the community in prayer. He wants to light to wash out all of the darkness surrounding Athena's death.
"I didn't know Athena, but I love her," he said.
That love was visible in every corner of the county in ribbons bows and balloons all in pink. It was Athena's favorite color.
Tributes to Arena are many in Wise County, a mostly rural area with 70,000 people spread across 900 square miles.
Patricia Fake is one of many who left little pink teddy bears at the growing memorial outside of First Baptist Church in Cottondale not far from Athena's home in Paradise. She and others who did not have a connection to the family say the loss still feels personal.
 "It just breaks my heart. I just wanna cry about it," she said.
Tuesday night, First Baptist Cottondale will host a candlelight vigil for Athena.
Her mother wrote on Facebook "l hope all of the towns light up the night for Athena Tuesday. Her light is extraordinarily bright. Help me continue to let her light shine."
Pugh says countless volunteers have stepped up to help.
Among those scheduled to speak Tuesday is Athena's teacher.
"What we need to do to help her and the family is love the Lord, love each other more and turn to the Lord, not away from him," Pugh said.