Most of North Texas avoids wintry mix as Arctic air arrives
DALLAS - A cold front has arrived in North Texas that has brought temperatures down into the 30s. A wintry mix was possible, but most of the Metroplex avoided it.
A Winter Weather Advisory was issued for most North Texas counties, but it was canceled Friday afternoon.
This round of potential winter weather isn't expected to be anything like the last two we've had. But there could be some dicey driving conditions for some during Friday evening's rush hour.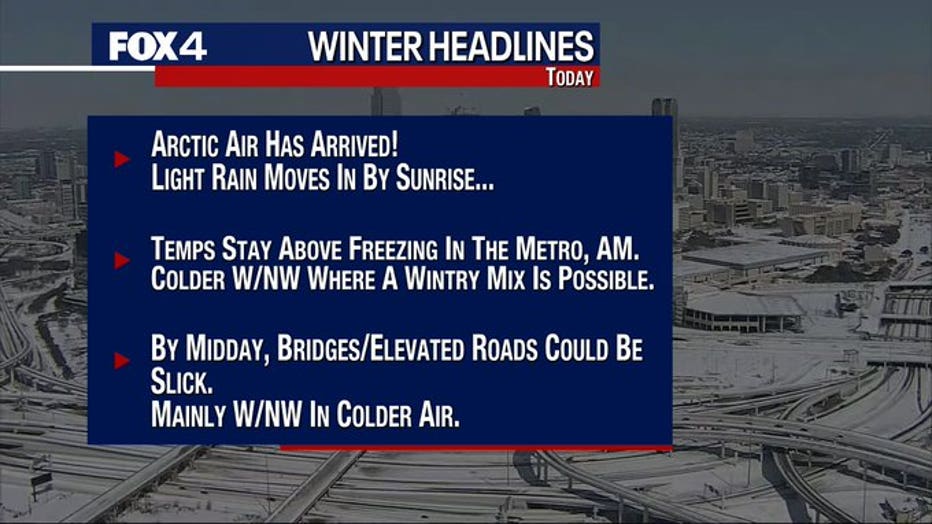 Temperatures in the Metroplex stayed at or above freezing, with light rain throughout the morning and afternoon hours.
What started as a cold rain could have transitioned into more of a wintry mix after midday, but most of the Metroplex avoided a wintry mix.
Roads are slick due to the rain but have stayed clear of any ice for the most part.
TxDOT started treating the roads on Tuesday as a precaution, focusing on bridges, overpasses and interchanges that tend to freeze over.
Despite the temperatures staying above freezing, TxDOT officials said any elevated surfaces, like bridges and overpasses, can still see some slick spots.
"Those elevated surfaces that are not insulated and because they are higher, tend to accumulate any sort of sleet or snow that may fall, even if the temperatures aren't below freezing. They have a chance of accumulating," said Val Lopez, with TxDOT.
TxDOT said they'll continue to monitor the roads into Friday night as temperatures fall below freezing.
They'll have crews out on those interchanges and bridges treating as necessary.
Gusty winds should help dry the road surfaces Friday night, but temperatures are expected to fall into the 20s overnight, with wind chills in the teens by Saturday morning.
Saturday will be chilly but dry with highs in the mid-50s.
MORE: FOX 4 Weather Coverage