Missing Fort Worth 11-month-old found in New Mexico, suspect in custody
FORT WORTH, Texas - An 11-month-old from Fort Worth has been found safe out of state after her father, who did not have custody, attacked the child's mother and forcibly kidnapped the child.
The manhunt by Fort Worth officers started late Thursday night.
Police say the child was abducted from an apartment complex in North Fort Worth near Roanoke, launching an Amber Alert that may have woken you up.
The child was found unharmed more than 12 hours later in another state.
Police say the child's father is facing multiple charges related to the abduction. He's been arrested before for charges of attacking the child's mother.
11-month-old Harmony Rodriguez was found safe out of state after a 15-hour manhunt for her father, 26-year-old Lancelot Dawkins. Police say he was fresh out of jail when he went to his ex-girlfriend's apartment on the 13500 block of Little River Road.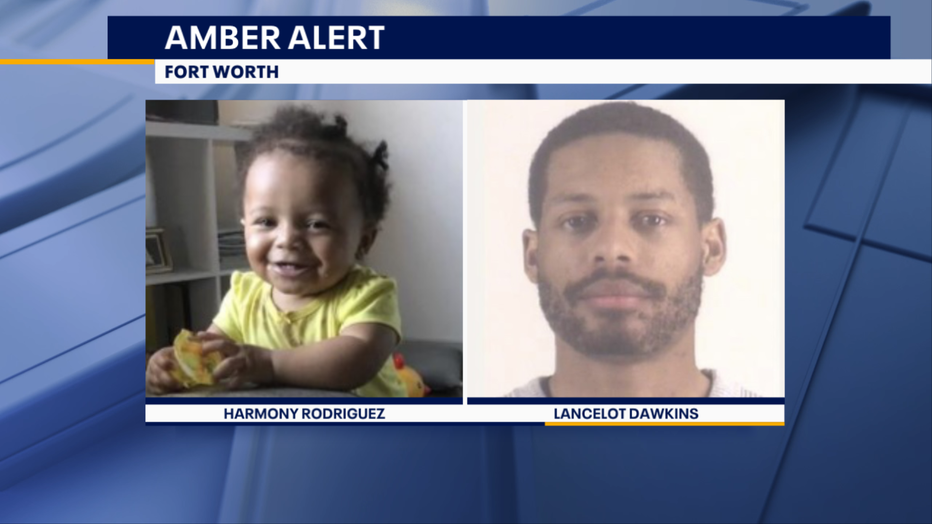 "When he walked up to the residence, he placed his hand over the peep hole and said he was an officer. He claimed he was with law enforcement," said Fort Worth Police Chief Neil Noakes. "When Harmony's mother opened the door, he forced his way in and assaulted her, strangling her to the point of unconsciousness."
Fort Worth police revealed Dawkins has a history of domestic violence with charges in five different states.
"One of the most frustrating things for all law enforcement, all police officers is repeat offenders and those who are allowed to be released to offend again," Noakes said.
Dawkins was arrested for choking the same woman in December. According to an arrest warrant affidavit, he lunged at her during an argument, choking her and pushing her head against a column.
The affidavit says Dawkins "continued to make threats of killing her, grabbing scissors and a knife putting it on the counter." 
Authorities say he bonded out of the Tarrant County jail in January, fled Texas and was booked into jail again on Wednesday. 
His bond was set at just $3,500. And after he was released from jail again on Thursday, authorities say he went straight to his ex-girlfriend's home to attack he and kidnap their daughter. 
"Our criminal justice system is set up in a way that unfortunately it's a reality for us," Noakes said.
Fort Worth police say they received information that Dawkins was at an address in Edgewood, New Mexico, and contacted police there, who then located the white Jeep Wrangler Dawkins and the child were in. They arrested him and got the girl to safety.
At this time, police are not releasing details on how they were able to track Dawkins down in New Mexico. He will be extradited back to Tarrant County to face additional charges.
READ MORE:
Missing Dallas woman found dead; husband charged for her murder
Suspect in DWI crash that killed Euless officer faces additional charges
Dallas firefighters file suit after injuries from Highland Hills Apartments explosion