Dallas chosen as 2026 FIFA World Cup host city
DALLAS - AT&T Stadium in Arlington will play host to the world's biggest sports event.
Dallas was named as a host city for the 2026 FIFA World Cup. The bid included cities all across North Texas.
Dallas is one of 11 U.S. cities that will host World Cup matches. But it's still too early to know whether which cities will get the biggest matches. Work to secure those starts right away.
The Dallas World Cup Bid Committee won't have long to celebrate becoming one of 11 U.S. host cities. Next comes the hard work of securing the best matches, and that starts Sunday.
When Dallas put in its bid to become a World Cup host city, it teamed up with multiple cities in the region, providing AT&T Stadium in Arlington for matches, Toyota Stadium in Frisco, the Cotton Bowl, Fair Park, and Globe Life Field for training areas.
MORE: FIFA World Cup Coverage
For the second time, Dallas and North Texas will be a host city for the FIFA World Cup. The last time Dallas hosted a World Cup match was a quarterfinal match in 1994 at the Cotton Bowl.
It's an announcement North Texas has been waiting to hear for more than two years.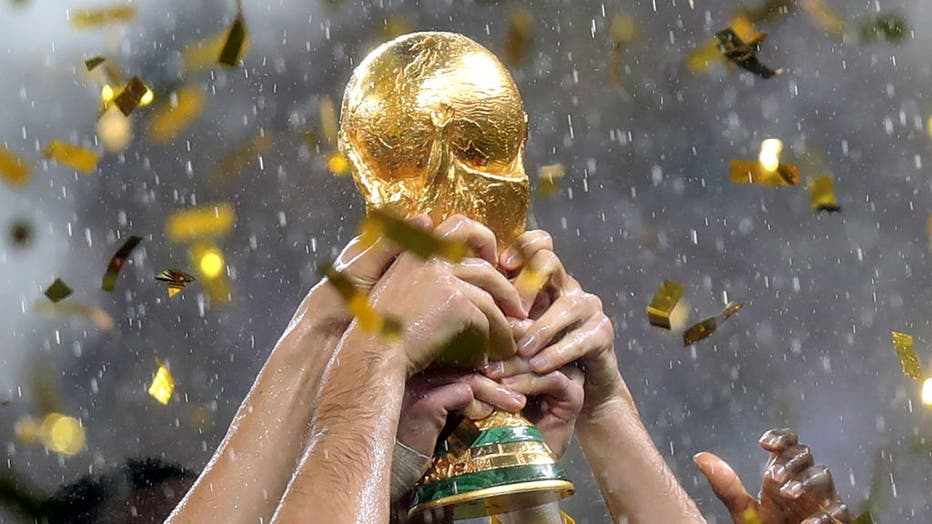 The FIFA World Cup Trophy at the official award ceremony after the final match between France and Croatia at FIFA World Cup Russia 2018 at Luzhniki Stadium; France won 4-2. Denis Tyrin/TASS (Photo by Denis TyrinTASS via Getty Images)
Eleven U.S. cities, three Mexican and two Canadian cities will host games, but what we don't know is how many each city will get and who gets the semifinal and championship matches. 
Members of the Dallas World Cup Bid Committee leave Sunday for New York to meet with FIFA officials. 
"We will spend some time with FIFA in person and have our one on ones," said Dallas Bid Committee Chairman and FC Dallas President Dan Hunt. "They will take a look at AT&T Stadium. We have a rep coming from the Cowboys to help with that."
Now that North Texas has the bid, the Dallas Sports Commission projects at least a $400 million revenue impact to the region. And to help pay for it is a major event reimbursement program funded by the state. 
Cities can recoup expenses on things like security, first responders and a list of other eligible items. 
But Houston's also a host city, and it's unclear if that might impact how much state cash is made available to prepare for the World Cup.
Another focus is transportation since the bid included facilities all over the metroplex. 
"It's about ensuring the connection and utilizing busses and other services to get to AT&T Stadium," said Dallas Sports Commission Monica Paul.
Both DART and TRE trains don't go to AT&T Stadium where the matches will be held.
When FOX 4 asked how officials plan to get people staying all over the metroplex to the stadium, the solution appears to be bussing people to and from the stadium.
"We will look to do something very similar to what we did for the Final Four and college football playoff," Paul said. "And we actually started testing it out during WrestleMania this year. Really, the partnerships with TRE and DART. 
Dallas is also bidding for the International Broadcast Center at Fair Park, something Dallas had in 1994, as well as the central referee location.
RELATED: FIFA 2026 World Cup: Los Angeles, New York, Atlanta, Miami among host cities selected
The other cities selected for the tournament are Vancouver, Seattle, San Francisco, Los Angeles, Guadalajara, Mexico; Kansas City, Atlanta, Houston, Monterrey; Mexico City; Toronto, Boston, Philadelphia, Miami, New York, New Jersey.