2 killed after Fort Worth police break up illegal street takeover
FORT WORTH, Texas - Fort Worth police said an illegal street takeover near downtown led to a crash that killed two people.
Police initially responded to a blocked intersection on University Drive near West 7th Street and White Settlement Road around 11 p.m. Sunday. 
Witnesses said several cars performing dangerous stunts and preventing traffic from getting through.
Mother of teen killed in shooting outside Fort Worth Whataburger says she's already forgiven killer
One car, a red Camaro, was described as the leader of the group. That car sped away from the intersection once police arrived to break up the event.
Moments later, the fleeing Camaro crashed. It hit a curb, went down an embankment, and flipped over on White Settlement Road and Henderson Street.
Police officers were able to pull two survivors from the wreckage. They were taken to the hospital with non-life-threatening injuries.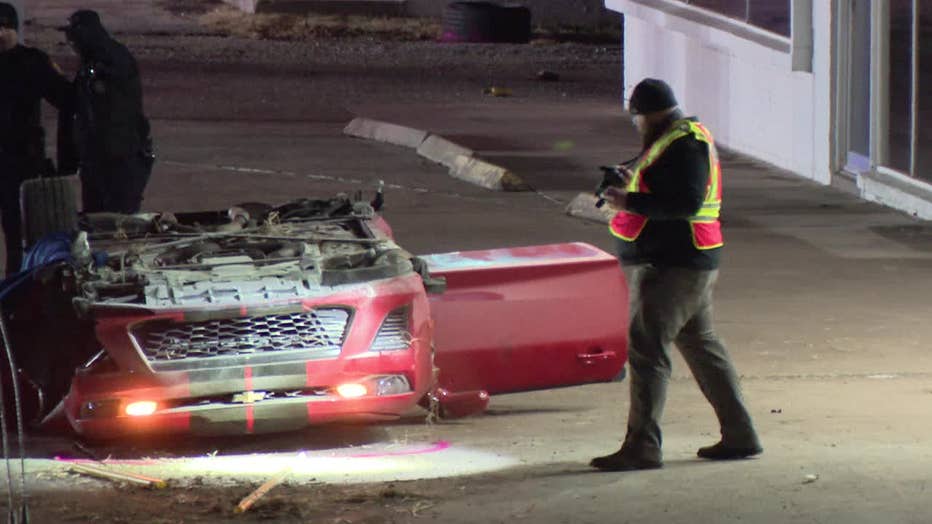 But two others inside the car – a female driver and a male passenger – were killed. Their names have not yet been released.
The crash happened in front of Crash Brothers Paint & Body.
Owner Chris Garcia says he's thinking of the families of those killed.
"Now, every day, when I come to the office, I'll think about those two lives that were lost," he said. "It's a very sad thing, and that'll be always hard for anyone to overcome so the best to them."
Police say the driver of the Camaro shut off her headlights and drove away. Police did not chase it.
People who live in this area say street racing is far too common.
The president of the Linwood Neighborhood Association says it has been an ongoing issue every Sunday night. 
The surviving male passengers — 21 and 20 years old — are stable in hospitals. No charges will be filed against them, according to police.
You can still see signs of the crash outside Garcia's business, including tire marks on the hill. 
"Probably within the last three weeks, another car went down just over there," Garcia said. "You can still see the track in the grass."
Additional tire marks off to the right highlight another vehicle Garcia says recently drove down the hill. 
Police did not release an approximate speed the Camaro was traveling when it crashed. 
Garcia says speed and this roundabout is a recipe for disaster. 
"There's just been too many accidents here, and something has to change," he said.
The accident is still under investigation.