2 charged in shooting of Deep Ellum musician; police credit tips from FOX 4 viewers
DALLAS - Dallas police announced Thursday they have arrested and charged two men in connection to the shooting of a musician in Deep Ellum on Super Bowl Sunday, thanks, in part, to tips from FOX 4 viewers.
Cameron Cooper, known in music circles as Chief Rebel, was inside the Free Man Cajun Cafe and Lounge on Commerce Street on Feb. 12 when two people outside starting shooting at each other. Bullets went through the club's window, hitting Cooper, who police say was trying to protect others at the time.
The 33-year-old was hit by two bullets, once in the abdomen and once in the thigh.
Video of the shooting was featured on FOX 4's Trackdown series, which got viewers involved in the search.
On Wednesday, police arrested 23-year-old Korbin Smith and charged him with aggravated assault and unlawful possession of a firearm by a felon.
In an arrest affidavit, police note that after the Trackdown segment on FOX 4 aired detectives received multiple emails and phone calls identifying Smith as one of the shooters.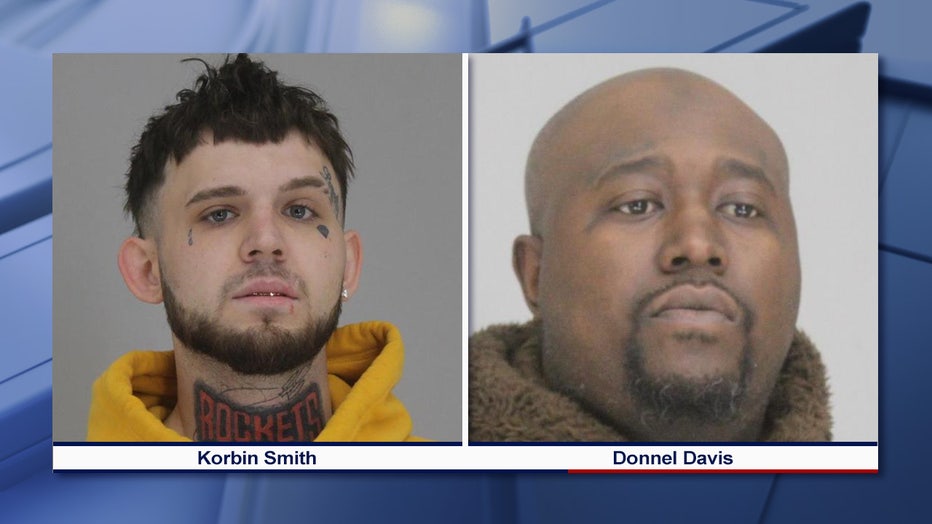 According to an arrest affidavit, Smith admitted involvement: "after being read the Miranda Warning...stated...he was a felon and had in his possession and had used a 9mm Smith and Wesson handgun. The handgun was not recovered. Defendant Smith stated he gave the handgun to an unidentified friend who disposed of it."
According to documents, he had just served a year on a state jail felony charge and was released in January.
Police also announced the February 24th arrest of 35-year-old Donnel Davis, who has been charged with two counts of deadly conduct and aggravated assault.
Last month, Cooper's family shared video of the musician using a walker as a part of his lengthy recovery process.
Cooper has since returned home and says he is grateful for the support he received during his recovery.
"Emotionally, afterwards, it's definitely been a roller coaster," Cooper said previously. "It's not just a one set way to feel, one set way to think, one set way to move. It's been processing a lot of different emotions to this situation."
Cooper also said this experience will expand what has always been his socially conscious music message.
"I've always been who I am, and this is just a testimonial thing to say I'm really here to do what I've been doing, just on a larger scale. This has just put another battery in my pack to keep going, to go harder," he added.
He had a message for everyone after this experience.
"Take away from this situation that you must always think before you move, before you operate, and the choices that you make can put innocent people in a life threatening position," he said.