15-year-old accused of murdering Mesquite store owner
MESQUITE, Texas - Mesquite police have arrested a juvenile accused of robbing and murdering the owner of a Mesquite store.
The fatal shooting happened just after 1:30 p.m. Wednesday, at a store in the 1800 block of Galloway Avenue.
Police said officers found the adult male victim on the ground in the Big Dollar Mart. He had been shot several times.
The victim, 55-year-old Sajan Mathew, was taken to the hospital where he later died. He leaves behind a wife and two daughters, one of which got married in a large ceremony two months ago.
Through the course of the investigation, police identified a 15-year-old male as the suspect. His name and photo won't be released because he is a juvenile.
"We put out a notice to surrounding agencies that were looking for a specific license plate. The Dallas Police Department was able to locate this vehicle and they took the suspect into custody," Mesquite PD spokeswoman Jolyn Lopez said.
The teenager was arrested and is now facing a capital murder charge.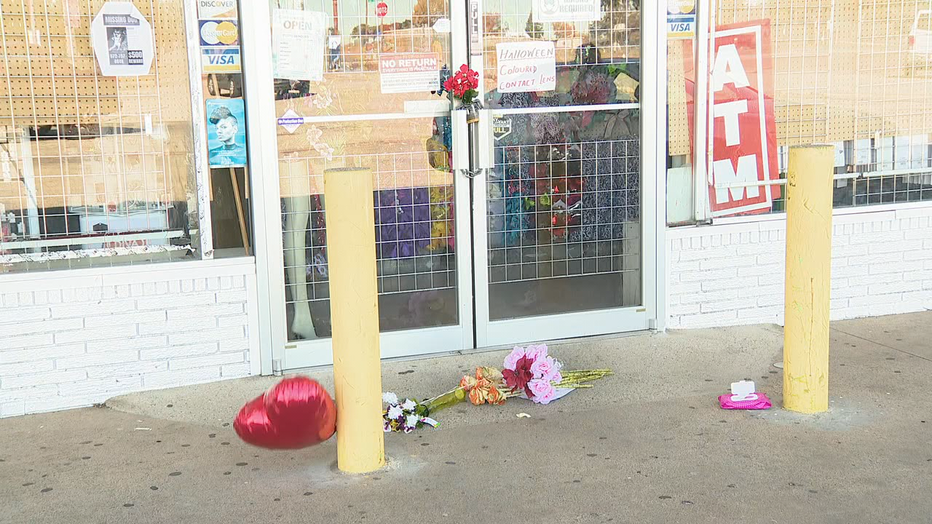 All day Thursday, friends, family, and longtime customers showed up to tge dollar store to pay their respects to Mathew.
Outside Big Dollar Mart, flowers and mementos were left at the door in wake of Wednesday's robbery and fatal shooting.
"You come in the door and he says, 'Hello friend.' He was just a really nice person," Kathy Vance said. "That's a loss to our community. He was very nice."
Family and close friends said Mathew moved to the U.S. from south India.
"So many people know him in that neighborhood. Everybody knows him and everybody loves him because he's so friendly to everybody," relative Andrews Philip said.
Mathew was known to be extremely kind, even when he sometimes observed people stealing in his store. 
"But he always closed his eyes and because he'd always tell me maybe they are hungry or they need it and don't have the money," friend Jacob Budhenurackan said.
He also thought of potential danger and often shared with others his philosophy for avoiding violence. 
"If anyone tried to steal anything or attempt any kind of illegal things, you have to give up. You have to save your life," Budhenurackan recalled.
READ MORE:
Woman shot during carjacking in Deep Ellum
Four teens murdered 60-year-old in Dallas Costco parking lot, affidavit says
Two added to Texas Most Wanted Fugitives List, Sex Offenders List