Speeding driver causes crash in Carrollton that killed mother, injured 5 children
CARROLLTON, Texas - A speeding driver who may have been street racing hit a minivan with a Carrollton mother and several children inside.
Carrollton police say a hit-and-run driver caused an accident that killed a mother of eight Monday night.
The crash happened near Marsh Lane and Dove Creek Lane Monday night. The road was wet from a day of rain. 
Police say the driver of a red Camaro who was possibly street racing left the car behind and ran off after causing the crash.
But Carrollton police say they believe they know who he is and are working to get him in custody.
Investigators say they have the suspect identified and a warrant out for his arrest.
Richard Blair and his wife, Evellyn Blair, witnessed the horrific crash that killed the 43-year-old mother.
"I did the best I could. I was trying to help," he recalled.
The Blairs were heading northbound delivering food when they say they noticed a red Camaro speeding southbound. The Camaro lost control on the slick road and came into oncoming traffic. 
"He was speeding by us," Evellyn recalled. "And I looked, and I heard a crash. He jumped over the median."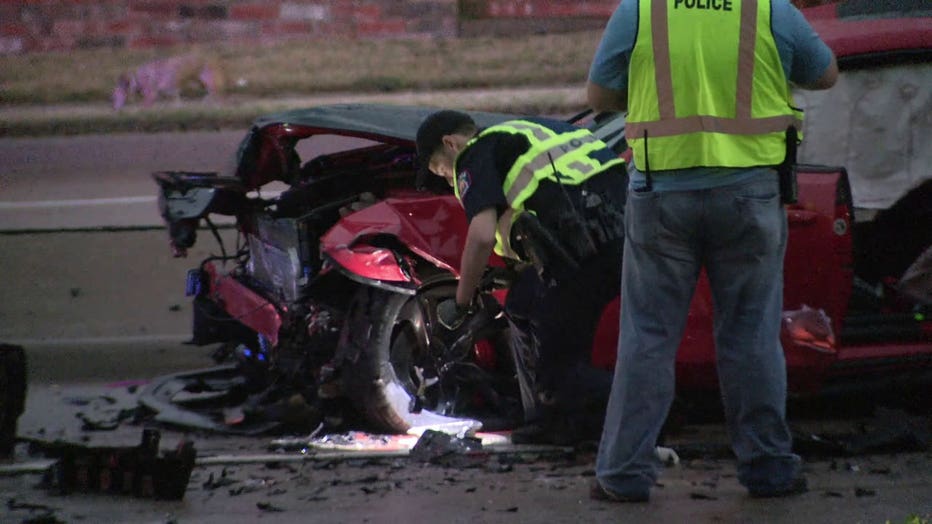 In their rearview mirror, the Blairs saw the wreckage of the Camaro and a dark colored Toyota surrounded by smoke. So they made a U-turn and hopped out of their truck only to hear the cries of children. 
"She was like, 'My mom! My mom! My mom is gone!' It was the most gut-wrenching cry you could ever hear," Evellyn said.
The Blairs went to the damaged driver's side door of the dark colored Toyota. The couple tried to pull out the driver. but they say she wasn't moving. 
According to Carrollton police, the 43-year-old woman was pronounced dead on scene. Her name has not been released.
However, the five children who were in the car survived. 
"We worked, and I tried so hard to help them," Evellyn said. "I looked to see if there was anything I could do for their mom, but there was nothing."
Evellyn was able to pull some of the kids out of the car. One boy was still trapped behind the crushed driver's seat when the paramedics arrived.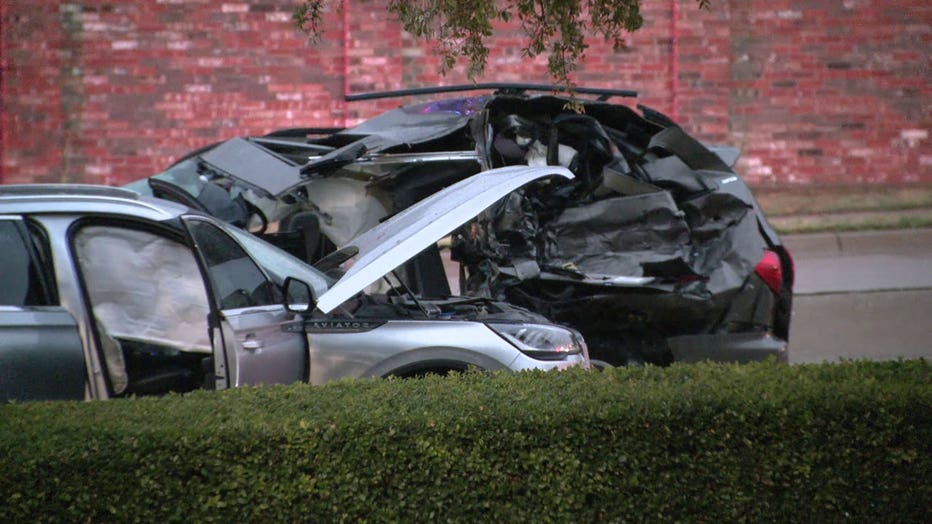 All five children were taken away in ambulances. 
"You are risking your life, your family's mental life, and innocent people's lives, innocent children's lives. He's lucky he's alive," Evellyn said.
Family members say three of the children have been released from the hospital. The other two are still in the hospital.