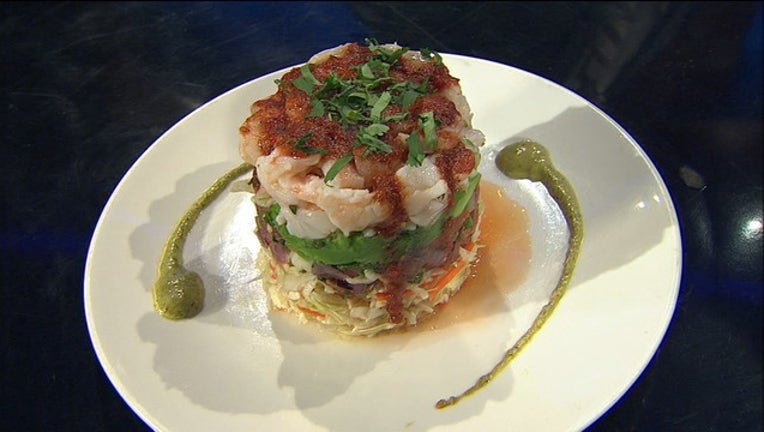 Eating healthier for the New Year? Try this recipe from Chefs Beto and Julian Rodarte from Beto & Son in Trinity Groves.

Shrimp Ceviche Tower
6 ounces fresh raw shrimp marinated (Details below)
Half an avocado, sliced
1 cup of Pico de Gallo (Make your own or buy your favorite at the grocery store)
1 cup of Mexican Slaw (Recipe below)
2 tablespoons of Mexican Cocktail Sauce (Recipe below)
Ready to Plate: Layer each component beginning with the slaw, followed by the sliced avocado, then a layer of Pico. Finally, top with the marinated shrimp. Drizzle with Mexican cocktail sauce and garnish with fresh cilantro.

Quick Shrimp Ceviche
Prepare the marinade by whisking together the following:
1 T. Lime Juice
½ cup white vinegar
1 T. Salt
1 T. Sugar
Blanche shrimp in boiling water for 1-2 minutes until just cooked through. After blanching, allow shrimp to cool and add to the marinade for 30 minutes. Store until ready to plate. 

Mexican Slaw
Prepare the slaw by whisking together the following:
¼ cup red wine vinegar
1 T. agave nectar
1 tsp. salt
1 tsp. lime juice
1 T. olive oil 
Add 1 Cup shredded cabbage and 2 T. pickled red onions (optional) to the dressing and lightly toss to coat. Set aside until ready to plate. 

Mexican Cocktail Sauce
1 cup of fresh diced tomatoes
1 T. Mexican oregano
1 T. Lime Juice
1 T. Sugar
1 tsp. Salt
1 tsp. Cracked black pepper
1 tsp. White vinegar
1 tsp. Soy sauce
1 tsp. Worcestershire 
1 tsp. Crushed red pepper flakes
Add all ingredients into a blender and blend on medium-high speed for 1 minute or until all ingredients are completely emulsified. Set aside until ready to plate.