Wigginton's 30 points propel Cyclones past Baylor 75-65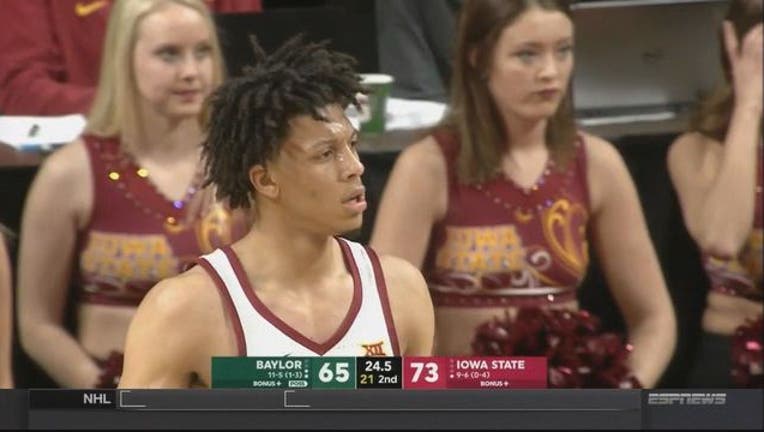 AMES, Iowa (AP) - Iowa State is finally on the board in the Big 12 thanks to freshman Lindell Wigginton's most electrifying performance yet.
Wigginton scored a career-high 30 points - four days after scoring 27 points at Kansas - and Iowa State beat Baylor 75-65 on Saturday to snap a four-game losing skid.
Nick Weiler-Babb added 15 points, 10 assists and seven rebounds for the Cyclones (10-6, 1-4 Big 12), who picked up their first league win while beating the Bears (11-6, 1-4) for the 14th time in 16 tries at home.
"Wigginton was a monster," Baylor coach Scott Drew said.
He was also the catalyst for the late push that rescued the Cyclones.
Wigginton buried a 3, and fellow freshman Cameron Lard hit a layup with 4:26 left to put Iowa State ahead 64-58 and force a Baylor timeout. Lard then rescued a Cyclones possession by tipping out a loose ball to the perimeter, and Wigginton responded with a 3 that made it 69-62 with 1:36 to go.
Weiler-Babb wisely drained the shot clock before hitting a mid-range pull-up jumper to push Iowa State's lead to 71-65 with 51 seconds to go, ensuring that the Cyclones would survive after back-to-back overtime losses and a five-point defeat to the Jayhawks.
"We haven't put a complete game together, and I thought (Saturday) was one of our most complete games so far," Weiler-Babb said.
Freshman Tristan Clark had 16 points and 15 rebounds for Baylor (11-6, 1-4), which lost despite grabbing 19 offensive rebounds.
"Normally with freshmen you get inconsistency. So hopefully you get consistency from him at that level, because he was really good," Drew said of Clark.
Lard scored 11 points with nine rebounds and five blocks for the Cyclones, who overcame a 1 of 12 shooting stretch midway through the second half in part because of Wigginton's heroics.
THE BIG PICTURE
Baylor: This was Clark's best Big 12 game by far. An improving Clark would go a long way in the Bears' push for a decent finish in conference play. Still, Baylor fell into a tie for last place in the Big 12 after losing in one of the few gyms where a win is a reasonable expectation in 2018.
Iowa State: Wigginton and Lard are the future of Iowa State basketball, so seeing those two lead the way at times was an encouraging sign for a program in the middle of a rebuild. "As he continues to develop, he's going to be a really good player," Prohm said of Lard. Wigginton took over Iowa State's offense with guard Donovan Jackson (3 points on 1 of 10 shooting) struggling to hit anything.
THE NUMBERS
Jo Lual-Acuil Jr. and King McClure each had 13 points for Baylor. But Manu Lecomte had just nine points on 2 of 12 shooting, and Prohm attributed that poor night to Wigginton's defense. ... The two teams combined to shoot just 13 of 46 from 3-point range, which helped contribute to the staggering 32 offensive boards. ...There were nine ties and 12 lead changes, and Iowa State's biggest lead was 10. ... Cyclones sophomore Solomon Young added 11 points and 12 rebounds for his first double-double of the season.
HE SAID IT
Drew said after the game that someone from the crowd threw a lemon at Baylor's bench at the end of the first half. "It was a bad throw because it didn't hit anybody," Drew said. "Iowa State has some of the classiest fans. Everyone respects them. I know every once in a while a student might do something they might regret. We've always enjoyed coming here because of the intelligence and the passion of the crowd."
UP NEXT
Baylor hosts Oklahoma State on Monday.
Iowa State plays at TCU on Wednesday.
___
More AP college basketball: http://collegebasketball.ap.org and http://www.twitter.com/AP_Top25