UNT forces deciding game for CBI with 69-55 win over USF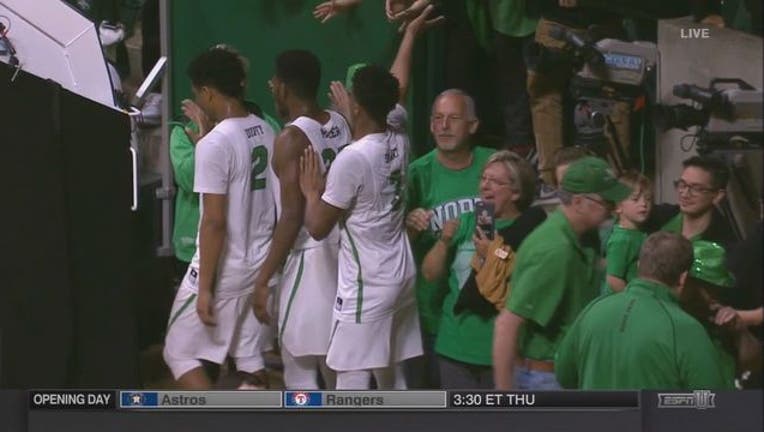 DENTON, Texas (AP) - Jorden Duffy scored 15 points to help North Texas beat San Francisco 69-55 on Wednesday night, forcing a deciding Game 3 in the College Basketball Invitational final.
Roosevelt Smart added 13 points and Zachary Simmons had 12. Duffy also grabbed nine rebounds.
The Mean Green missed 12 straight shots from the field over a span of nearly 7 minutes before Tope Arikawe's tiebreaking layup with 29 seconds left made it 33-31 at halftime. Arikawe finished with 10 points.
North Texas (19-18) scored the first 10 points after halftime, part of a 16-3 run that was capped by Ryan Woolridge's steal and breakaway layup that made it 49-35 with just over 12 minutes left. That was the second steal he turned into a quick score in that spurt.
Souley Boum had 16 points for San Francisco (21-16), while Frankie Ferrari had 10.
Game 3 is Friday night, back in the Super Pit on the North Texas campus. San Francisco won 72-62 in the opener of the best-of-three series Monday night.
BIG PICTURE
San Francisco: The Dons, who won back-to-back NCAA titles in 1955 and 1956 and were NIT champs in 1949, are looking to become the first NCAA Division I team to win three different postseason tournaments. This is their third CBI appearance.
North Texas: With their 19th win in coach Grant McCasland's first season, the Mean Green have already won 11 games more than last season and assured that they will not have a losing season. Their last .500 record was 16-16 in 2013-14, and their last winning season was an 18-14 record in 2011-12.
UP NEXT
This is the ninth time in the 11 CBI tournaments that the final series has needed all three games to determine the champion. The deciding game comes the night before the start of the NCAA Final Four in San Antonio, about a 5-hour drive south on I-35 from the North Texas campus.
___
More AP college basketball: https://collegebasketball.ap.org ; https://twitter.com/AP_Top25 and https://www.podcastone.com/ap-sports-special-events