Spieth looking to regain putting form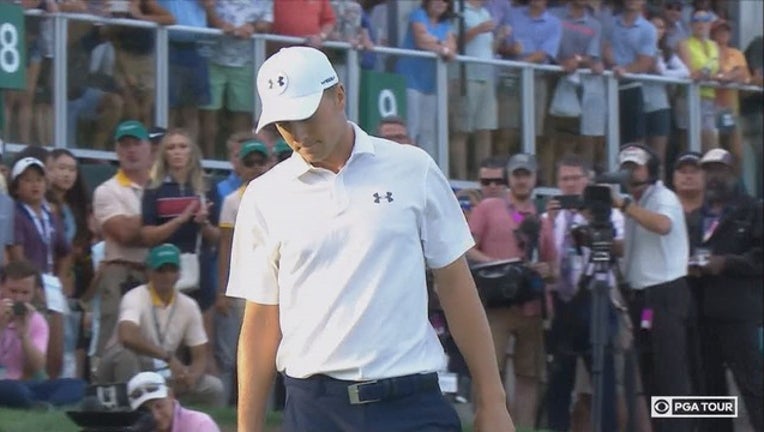 HUMBLE, Texas (AP) - The last time Jordan Spieth was in contention at the Houston Open, he lost out in a three-way playoff in 2015. Then he won the Masters for his first major championship.
The Dallas native is back this week for the usual Masters' tuneup, searching for some momentum.
"This hasn't been the start that I've wanted so far, but I would like to think the season kind of starts next week," Spieth said Wednesday. "You put a lot of emphasis on peaking for four weeks a year and that first one comes at the Masters. I'm trying to have a fantastic event here obviously, which is the best way to gear up for (Augusta National)."
The 24-year-old Spieth, ranked No. 4 in the world, has been hurt by inconsistent putting of late. He missed the cut in the Valspar Championship and then lost to Patrick Reed on Friday in the Dell Technologies Match Play.
He is one of three top-10 players in the field at the Golf Club of Houston, followed by Justin Rose at No. 5 and Rickie Fowler No. 8. Phil Mickelson also is in the tournament after winning the WGC-Mexico Championship in early March for his first championship since the 2013 British Open.
Spieth's chances of winning could hinge on returning to form on the greens, which are groomed to mimic the putting surfaces at Augusta National. He is currently ranked 201st in total putting on the PGA Tour and 172nd in strokes gained by putting.
"It's simple stuff. It's setup stuff that's just gotten off and I just haven't figured out how to consistently get it back on," he said. "I'm getting there, putting a lot of work in. If it comes by next week or this week, great. If it doesn't, it will come soon. I'm going to stay the course.
"I've got 20-plus more years out here and a few months of setup stuff isn't going to derail my confidence too much. I'm in a good place right now where I know I've got time on my side. These couple weeks aren't the be-all, end-all of my career. Solid putting (has been) in my DNA going back to when I was a junior golfer and that's the belief I'll continue to hold."
The 24-year-old Spieth and Fowler each praised condition of the 7,422-yard, par-72 course, which took a beating during the historically devastating Hurricane Harvey.
"It's pretty amazing to see how good it looks after everything that has happened here in the last year," Fowler said. "I'm so excited to be back. I think it's very beneficial to play (the week before) a major, especially the way they set this golf course up, mowing the fairways and getting the greens up to speed similar to what we'll see next week."