Southlake DPS takes back tweet about poor Rangers season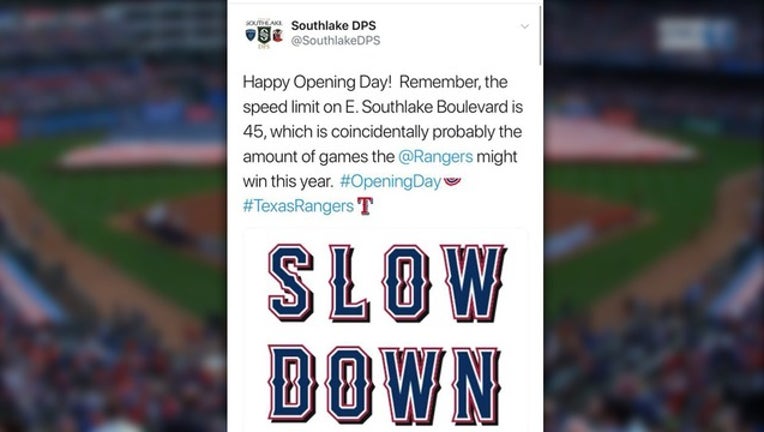 While most North Texans were cheering on the Texas Rangers on Opening Day, one police department made a joke that not everyone found too funny.
In a now-deleted tweet, Southlake DPS's Twitter wrote, "Happy Opening Day! Remember, the speed limit on E. Southlake Boulevard is 45, which is coincidentally probably the amount of games the Rangers might win this year."
If the Rangers only win 45 games during the 2018 season, it would mark the team's worst season — ever. As it stands, the franchise's first year in Texas was the team's worst full-season with only 54 wins. 2011 was the team's best season with 96 wins.
Southlake DPS got mixed reaction from their tweet. While some found the humor in the comment, others thought the department should stick to catching criminals.
"Houston police was going to do the same joke," wrote Mark Clayton. "But we have no 95-100 mph zones."
"Just write your speeding tickets and stay out of comedy," wrote Eeric Brewer. "Your not very good at it."
After a few hours, Southlake DPS pleaded for mercy from loyal Rangers fans.
"We've got jokes!" they wrote before taking down the tweet and apologizing. "As you can see we obviously, OBVIOUSLY all love the Rangers. We apologize for our joke earlier and wish the Rangers a fantastic season!"