SMU's Larry Brown visits Cowboys practice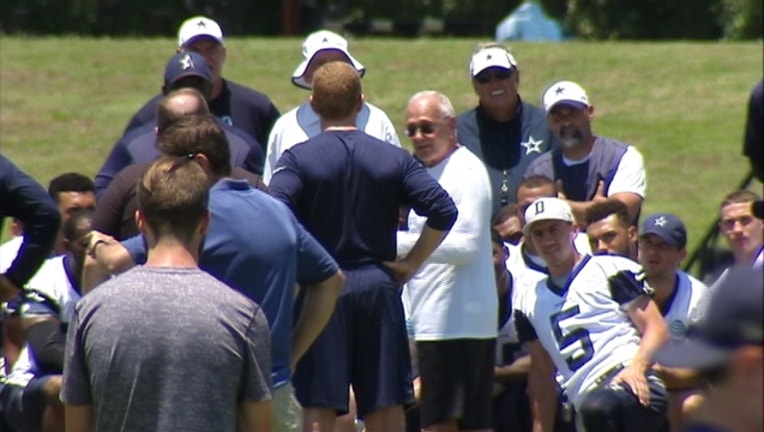 article
Cowboys players have been frequent visitors to SMU men's basketball home games. Wednesday, SMU head coach Larry Brown returned the favor and took in a Cowboys offseason practice at Valley Ranch.
"This is as many people as we get for games," Brown said. "I'm just in awe of being here and watching them practice. I've been a huge fan of Jason and the staff since I've been here. It's fun being around and watching them work hard and care about each other."
One of the Cowboys' most intriguing offseason additions comes with a basketball background. Sixth-round draft pick Rico Gathers never played college football, but Dallas selected the 6-foot-8, 275-pound former Baylor power forward anyway, projecting him to be a tight end.
"(Former Cowboys) coach Gil Brandt used to call and write me and say, 'Any prospects who could play football?' and I used to laugh," Brown said. "Rico can get the ball, he's athletic, tough. He's got Jason Witten around and that's the guy to follow. I know they realize he's a project but any kid with the heart he has, sure, he has a chance."
Gathers' basketball to football transition is more unique to Brown, who is used to hearing football players wanting to play basketball.
For the second half of last season at SMU, Brown coached the Mustangs' star wide receiver, Courtland Sutton, who walked on after midseason attrition shrunk SMU's roster to seven scholarship players. Sutton last played basketball in high school in Brenham, Texas.
"Every football player thinks they can play. When I got the job, (former SMU football coach) June (Jones) told me he could pick 5 guys on his team and beat us," Brown said. "I think he was right at the time."
While at Valley Ranch, Brown chatted with tight end Jason Witten and quarterback Tony Romo, the players most often seen taking in SMU games at Moody Coliseum.
"Tony loves the game, I just don't like to see him at Duke games," said Brown, a former North Carolina point guard. "Yeah, I told him that."