Oklahoma QB Mayfield regains his lost year of eligibility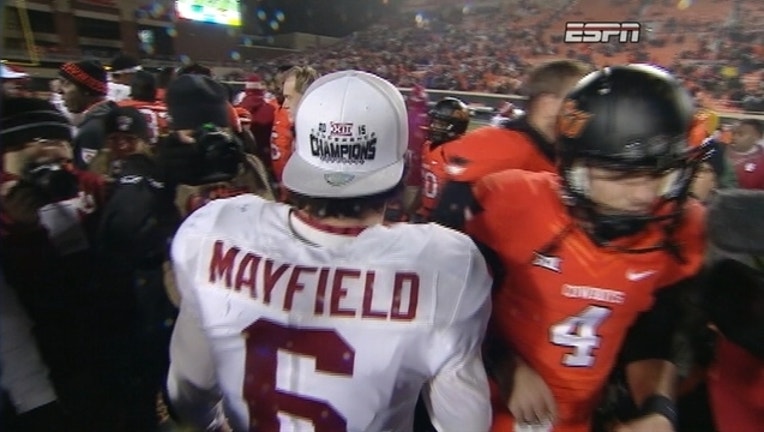 OKLAHOMA CITY (AP) — The Big 12 will have to deal with Baker Mayfield for two more years instead of one.
The conference adopted a rule change Thursday that gives back the Oklahoma quarterback the year of eligibility he lost when he transferred from Texas Tech, meaning he will be eligible to play for the Sooners in 2017.
Mayfield finished fourth in the Heisman balloting last season and led Oklahoma to the College Football Playoff. If the proposal had failed, this season would have been his last for the Sooners.
Mayfield had appealed to Texas Tech to override its rule forcing him to lose the year, but a five-member panel of Tech's athletics council unanimously rejected it, saying its decision was in line with school and NCAA rules. Mayfield had been a vocal critic of Tech since that time, saying its ruling was unfair because he was never on scholarship.
Mayfield is now vindicated. He Tweeted his approval of the change, saying, "And y'all thought you were getting rid of me...."
Just a day earlier, things looked bleak. Faculty athletic representatives had deadlocked 5-5 on Wednesday regarding a proposed change that would have given him the year back, meaning it failed because it lacked a majority. On Thursday, a new proposal sought to allow non-scholarship transfers within the conference to avoid losing a year if the school the player is transferring from does give a written offer of aid. That proposal passed 7-3.
"One of the provisions in our administrative policies is any current student athlete would be able to take advantage of rules changes to their benefit," Big 12 Commissioner Bob Bowlsby said. "In the case of Baker Mayfield, this would permit him to have transferred from Texas Tech and enroll at Oklahoma on aid without forfeiting a year of eligibility because he had not received a written offer of aid at Texas Tech."
Oklahoma President David Boren said he was pleased, and believes the new proposal is fair.
"This was a very good action by the faculty athletic representatives," he said. "Also requiring written evidence of an offer of scholarship, which in the case of Baker Mayfield there was no such offer — I think that strengthens it from an evidentiary point of view. The conference does not want to get into a he said, she said sort of situation. I think that, procedurally, is very strong."
___
AP Sports Writer Stephen Hawkins in Irving, Texas, contributed to this report.