No. 24 Vols win 75-62 to hand Texas A&M 5th straight loss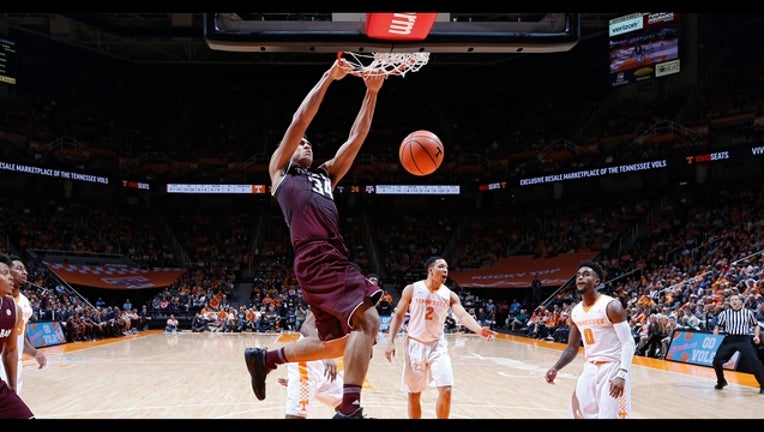 article
KNOXVILLE, Tenn. (AP) - Tennessee showed it can win even when Grant Williams and Admiral Schofield aren't scoring in bunches.
Jordan Bowden scored 15 points and the 24th-ranked Volunteers withstood cold shooting from their two top weapons to beat Texas A&M 75-62 on Saturday, handing the Aggies their fifth straight loss.
"We're a very deep team," said Tennessee's Kyle Alexander, who added a career-high 14 points. "Anybody can step up and help the team win and perform on any given night. We have so much depth, we can just go to anybody."
Tennessee (12-4, 3-2 SEC) has won three straight since dropping its first two SEC games. The streak started when Williams and Schofield combined for 38 points against Kentucky and continued when the duo teamed up for 57 points at Vanderbilt.
The two forwards combined to shoot just 7 of 25 against Texas A&M's size Saturday, with Schofield getting 12 points and Williams having just nine. Tennessee won anyway because other players stepped up.
Bowden led the Vols in scoring and continued to sizzle from 3-point range. He went 2 of 4 on 3-pointers Saturday and is 30 of 49 from beyond the arc this season.
Alexander arguably was an even bigger factor. The 6-foot-9 junior shot 5 of 6 from the field and had six points and three blocks to go along with his scoring.
"From start to finish, Kyle was terrific," said Tennessee coach Rick Barnes, who coached his 1,000th game and improved his career record to 647-353.
Tennessee's balanced attack continued Texas A&M's stunning slide.
After being ranked fifth in the nation at the start of SEC play, Texas A&M (11-6, 0-5) hasn't won since.
The Aggies have been playing at far less than full strength during SEC play.
Duane Wilson came off the bench and had six points and six assists Saturday after missing three games with a knee injury. Admon Gilder returned to action Tuesday at Kentucky after missing five games with a knee injury. This marked DJ Hogg's third game with the Aggies since serving a three-game suspension. Robert Williams had missed a loss at LSU last weekend due to illness.
Gilder scored 16 points, Hogg had 13 and Tonny Trocha-Morelos added 10 for Texas A&M
"It's a tough league," Texas A&M coach Billy Kennedy said. "You can't have some of the things we've been through the last couple of weeks - not having starters and starting different lineups every game - going into a league that's this good right now. You've got to be at your best every night. If you're not at your best, you're going to get beat."
The Aggies' last two losses before this game were decided by one point each - a 69-68 setback to LSU decided on an off-balance 3-pointer in the final second and a 74-73 decision at No. 21 Kentucky.
This one wasn't so close.
Tennessee forced 13-first-half turnovers to take a 36-28 halftime lead and extended the margin to double digits in the second half. The Aggies went on an 8-0 run to cut the lead to 65-59 with 3:41 remaining, but they couldn't get any closer.
BIG PICTURE
Texas A&M: The Aggies can only hope history repeats itself now that they're finally getting back to full strength. Texas A&M lost five straight SEC games midway through the 2015-16 season before rallying to win a share of the SEC title and reach an NCAA regional semifinal.
Tennessee: The Vols have led by at least nine points in each of their four losses this season. They're maintaining their leads now, in part because they're shooting free throws so well. Tennessee was 20 of 23 from the line Saturday and has gone 45 of 51 over its last two games.
REBOUNDING REVERSAL
Texas A&M entered the night with an SEC-leading plus-8.5 rebound margin but got dominated on the glass by Tennessee. The Vols outrebounded Texas A&M 38-29 - including 21-11 in the second half - and outscored the Aggies 11-3 in second-chance points.
SURPRISE APPEARANCE
Tennessee forward Jalen Johnson played a career-high nine minutes Saturday and was on the floor for eight minutes in the first half. The redshirt freshman had played a total of one minute in the nine games leading up to this one.
UP NEXT
Texas A&M hosts Mississippi on Tuesday.
Tennessee is at Missouri on Wednesday.
___
More AP College Basketball: http://collegebasketball.ap.org
___
Follow Steve Megargee at www.twitter.com/stevemegargee