Mayfield sets record; No. 16 Oklahoma beats Tulsa 52-38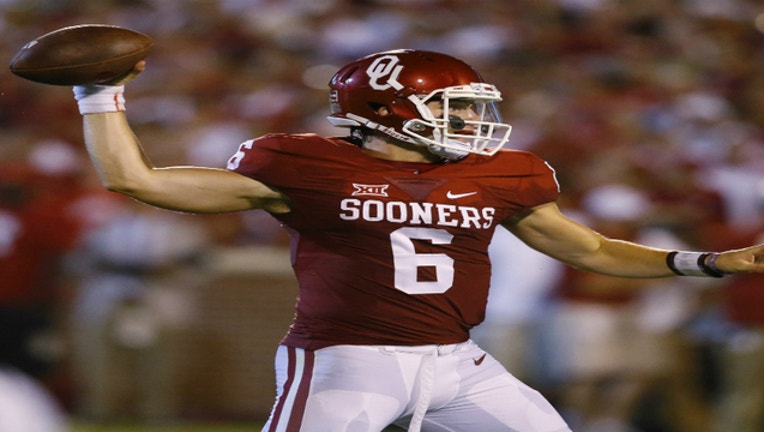 article
NORMAN, Okla. (AP) — Baker Mayfield sure knows how to make an impression.
The quarterback in his third start for No. 16 Oklahoma set a school record with 572 total yards, threw four touchdown passes and ran for two more in powering the Sooners over Tulsa 52-38 on Saturday in a game that totaled 1,376 yards of offense.
Mayfield, a transfer from Texas Tech who walked on at Oklahoma and sat out last year, had four TDs in an overtime win against Tennessee a week ago. He followed that up by completing 32 of 38 passes for 487 yards and carrying 13 times for 85 yards against Tulsa.
"Man, he was lighting it up, extending plays," Oklahoma receiver Sterling Shepard said. "You just kind of have to run with him. He'll find you down the field. He's always looking to pass first, but if he has to take it on the ground, he will do it, and you guys got to see a little bit of that today, too."
Mayfield's total yards topped the 554-yard record set by Landry Jones against West Virginia in 2012. His passing yardage total was fourth highest in school history.
"It's pretty humbling, especially knowing who has come through here," he said. "It's pretty special to me. But we had so much more on the table. Who knows what we could have done if we had just executed the offense better."
Samaje Perine ran for 152 yards and a touchdown, Shepard caught eight passes for 144 yards and Mark Andrews caught two TD passes for the Sooners (3-0).
Tulsa (2-1) stuck with Oklahoma for much of the game with Dane Evans throwing for 427 yards and four touchdowns. Keyarris Garrett caught 14 passes for 189 yards and a score.
Tulsa coach Philip Montgomery said he was proud of his team's effort, but disappointed in the outcome.
"There ain't nothing good about losing," he said. "We aren't going to be satisfied with that. I thought that we had opportunities to really turn the game around."
Oklahoma led 31-24 at halftime. The teams combined for 863 yards in the first half, the most in a first half since Fresno State at San Jose State combined for 1002 in a 2013 game.
Oklahoma finished with 773 yards, the fourth-most in school history and the highest total since gaining 829 against Kansas State in 1988. It was the most yards Tulsa has ever allowed.
Josh Atkinson caught 10 passes for 104 yards and a touchdown and Keevan Lucas caught two TD passes for the Golden Hurricane, who gained 603 yards. It was the fourth-highest yardage total Oklahoma has allowed since Bob Stoops became head coach in 1999.
"If we're going to have the type of season we want, we need to get better," Oklahoma defensive coordinator Mike Stoops said. "They exposed some weaknesses. We've got to take them personally and challenge them. We need to get better."
Tulsa trailed 31-10 late in the first half when Lucas caught a 28-yard touchdown pass from Evans with 13 seconds left in the first half. Tulsa recovered a squib kick that bounced off an Oklahoma player, then Evans connected on a 43-yard Hail Mary to Garrett with one second left in the half.
Oklahoma gained 466 yards in the first half, falling short of the school record of 507 against Missouri in 1986. The Sooners lost two fumbles inside the Tulsa 25-yard line in the second quarter.
Mayfield's best play might have been his touchdown pass late in the third quarter. He escaped the rush, rolled left and considered running before stepping back to find Andrews for a 17-yard score.
"It's just playing football," Mayfield said. "You drop back in your initial plan to read the defense, and when the defensive lineman comes through, you're obviously not just going to sit there and take it, so your instinct takes over and just try to get out of the pocket and find somebody open."
___
Follow Cliff Brunt on Twitter: www.twitter.com/CliffBruntAP
___
AP college football website: collegefootball.ap.org