Luka Doncic had a message for Devin Booker following loss to Suns
DALLAS - Dallas Mavericks star Luka Doncic wouldn't share what he said to Phoenix Suns guard Devin Booker at the end of Sunday afternoon's 130-126 loss.
After Doncic missed an open shot that would have tied the game with just a few seconds left on the clock. Booker appeared to mock Doncic who then got nose-to-nose with the Suns player.
READ MORE: Durant tiebreaker lifts Suns over Mavs in showcase of stars
Both players left the confrontation smiling, but when asked about what was said Doncic made it clear it wasn't friendly.
"It's not for tv, I will get fined. The NBA would fine me. It's fine, it's just a competitive game man. It's all good," said Doncic. "Next time, just don't want until three seconds left to talk."
Doncic and Booker both received technical fouls for the exchange.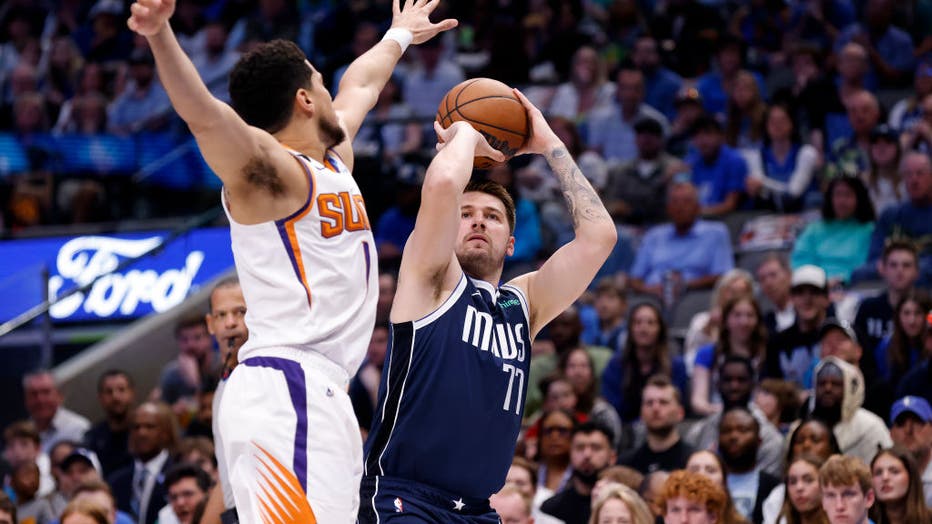 DALLAS, TX - MARCH 5: Luka Doncic #77 of the Dallas Mavericks shoots the ball as Devin Booker #1 of the Phoenix Suns defends in the first half of the game at American Airlines Center on March 5, 2023 in Dallas, Texas. (Photo by Ron Jenkins/Getty Imag
"You guys say you don't want everybody to be friendly-friendly. There you go. We got some smoke," said Booker after the game.
Doncic and Booker have history going back to last year's playoffs, which the Mavs won in 7 games.
After a foul in the series Booker remained on the ground jokingly calling the whining after a foul the "Luka Special."
Following a loss in Game 5, Doncic could be heard in the tunnel saying "everybody acting tough when they up."
The Mavs went on to win the next two games, including a dominating 33-point win in Game 7.