Texas Rangers, Frisco RoughRiders ditch mask rules after updated CDC guidelines released
Two North Texas sports teams lifted their mask requirements within hours of new CDC guidelines on vaccinated Americans.
The Texas Rangers and the Frisco RoughRiders, the AA affiliate of the Rangers, both announced Thursday afternoon they would no longer require fans to wear masks at their respective ballparks.
The Rangers said wearing a mask is now only "recommended" as opposed to "required." The Rangers have been at full capacity all season and did require masks on entry, but were not enforcing any mask rules for people seated despite stating fans should only take them off to eat or drink.
The Rangers begin a four-game road trip Thursday night in Houston and don't have a home game until Monday.
The RoughRiders say they received the go ahead from Major League Baseball for the change at Riders Field. 
The Dallas Mavericks have not announced any changes to its mask policy or attendance limits at the American Airlines Center. Fans at Mavericks games are required to wear masks, except to briefly eat or drink in their seats, and the policy is enforced by AAC ushers.
RELATED: 'Great day for America': Vaccinated can largely ditch masks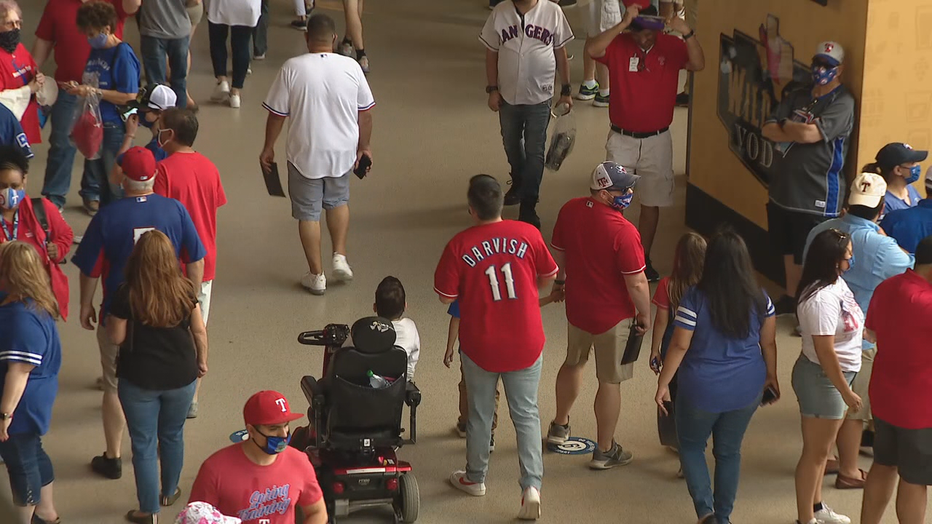 "I'm conflicted because I kind of feel naked without my mask, but I'm so excited to see everybody's faces again," Denise Harper said.
"I think it's okay cause I'm going to keep my distance," Gregg Childree said.
COVID signage was still posted throughout Dr. Pepper Ballpark during Thursday's game as fans learned about the update.
"I'm excited. I'm vaccinated. I'm ready," Avery Harper said.
"It's good to be back out here instead of just sitting at home, doing nothing," Cebrena Tijerina said.
Some say they're still a bit reluctant to ditch the masks altogether.
"I think it's a little premature, but we got to get back to normal eventually," Myah Day said.
"I think it's too soon because I don't know that everybody across the board has been vaccinated yet," Shauna McMurray said. "And I still don't feel comfortable that everyone is being as safe as they should be."
A few, like Childree, plan to keep wearing a mask for now.
"I'm vaccinated, but I'm going to wear the mask because I have elderly parents. I want to protect myself and I want to protect them," he said.
And while there is no way to tell who's vaccinated moving forward, Denise Harper said she's been listening to health professions and she still feels comfortable.
"I don't feel uneasy at all because I know I'm safe and protected and my family is. I hope that people make the choice that's best for their families," she added.