Faria gets 1st win since July, Rays beat Rangers 4-2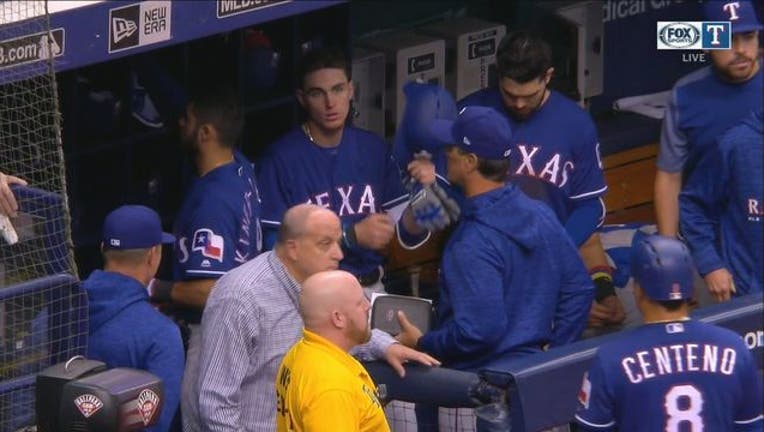 ST. PETERSBURG, Fla. (AP) - Jake Faria won for the first time since last July 25, allowing one run over six innings to lead the Tampa Bay Rays over the Cole Hamels and the Texas Rangers 4-1 on Wednesday.
Faria (1-1) struck out six and walked one. He had been 0-4 in eight starts and two relief appearances since beating Baltimore.
Hamels (1-3) gave up two hits through five scoreless innings before the Rays rallied to take a 3-1 in the sixth on Daniel Robertson's RBI double, C.J Cron's run-scoring single and Adeiny Hechavarria's sacrifice fly.
Denard Span's RBI double with one out in the seventh chased Hamels, who allowed four runs and seven hits in 6 1/3 innings.
Chaz Rowe struck out all three batters he faced in the seventh, and Jose Alvarado fanned one during a perfect eighth. Alex Colome got his fourth save despite allowing Drew Robinson's RBI single in the ninth.
Texas' Shin-Soo Choo homered for the second straight game, an opposite-field solo shot to left-center in the third.
A fan in a Rays jersey and with a baseball glove reached over the right-field wall to catch a drive by the Rangers' Renato Nunez in the fifth. The right-handed fan reached into a pocket immediately after the grab and threw a different ball back onto the field. The on-field call of a double due to fan interference was upheld in a a video review, and the fan was given a warning and relocated to another section by security.
TRAINER'S ROOM
Rangers: SS Jurickson Profar took grounders but remains in a concussion protocol after hitting the right side of his head on the infield after a collision at second base Monday. A decision on whether he will go on the 7-day DL is expected Thursday. ... OF Delino DeShields (broken left hamate bone) took on-field batting practice and is ready to start a rehab assignment at Double-A Frisco.
Rays: INF Brad Miller (strained left groin) could be reinstated from the 10-day DL Friday.
LOST AND FOUND
Rays coach Rocco Baldelli turned to social media after finding a lost dog following Tuesday night's game with the Rangers. The 14-year old dog named Charlotte was reunited with her owner Wednesday.
UP NEXT
Rangers: LHP Mike Minor (1-1) faces Seattle RHP Felix Hernandez (2-2) in the opener of a three-game series Friday night. Hernandez is 19-24 in 54 starts against Texas.
Rays: RHP Chris Archer (1-1) will face Minnesota RHP Lance Lynn (0-1) Friday night to start a three-game set. Archer is 6-1 with an 1.84 ERA in seven starts against the Twins.
___
More AP baseball: https://apnews.com/tag/MLBbaseball