Ellington ties career-best with 28, Heat top Mavs 113-101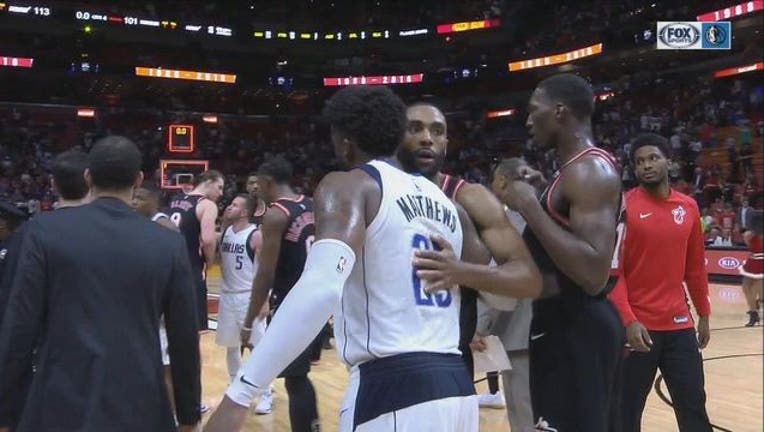 article
MIAMI (AP) - Wayne Ellington tied a career high with 28 points, Josh Richardson scored 24 and the injury-ravaged Miami Heat never trailed on the way to beating the Dallas Mavericks 113-101 on Friday night.
Tyler Johnson scored 19 and Bam Adebayo scored 14 for Miami, which shot 64 percent - second-best in franchise history. The Heat started both halves with 12-0 runs and went 16 for 25 from 3-point range.
Ellington made 3s on back-to-back possessions early in the fourth, pushing what was a two-point Heat lead out to 90-82. He connected on his seventh 3 with about four minutes left for a 99-88 lead, and Miami stayed in control the rest of the way.
Richardson made 11 of 14 shots for Miami, which has won four of its last five.
Yogi Ferrell scored a season-high 23 for the Mavericks. Dirk Nowitzki and Harrison Barnes each had 20 for Dallas, which got outrebounded 35-22. The 22 rebounds were the fewest by an NBA team this season.
Miami guard Dion Waiters left in the first quarter after turning his long-problematic left ankle on a drive, meaning the Heat now have seven players dealing with injuries. Hassan Whiteside, Goran Dragic, James Johnson and Justise Winslow all remained out with various injuries, Rodney McGruder and Okaro White are likely not returning anytime soon, and now Waiters is ailing again.
Waiters missed the final 13 games of last season with a left ankle sprain, and it's nagged him at times ever since.
Nowitzki made back-to-back 3s late in the third, pulling Dallas within 77-73. The Mavs had two possessions with a chance to take the lead in the fourth, misfiring on both, and Miami scored 31 points in the final 8 1/2 minutes.
TIP-INS
Mavericks: Devin Harris played only eight minutes before leaving with an illness. ... Dallas was denied a two-game winning streak, which would have matched a season best. The Mavs are 2-7 in the game immediately following a win.
Heat: Adebayo, who was 1 when Nowitzki made his NBA debut, spent some time guarding the longtime Dallas star. Adebayo was plus-28 in 37 minutes. ... Kelly Olynyk scored 11 for Miami.
ALL TIED UP
Including two NBA Finals matchups, the Heat and Mavericks have now played 74 times - with each team winning 37 of them.
UD-DIRK MEMORIES
Nowitzki and Heat forward Udonis Haslem have been going head-to-head for more than a decade - since the 2006 NBA Finals, at least, and the respect the veterans have for one another is clear. They shared some pleasantries before tip-off Friday, and then found themselves guarding one another briefly during the game.
MCROBERTS REPORT
Josh McRoberts, whose Miami tenure was marked primarily by injuries, still hasn't played for Dallas because of foot problems. Saturday is the one-year anniversary of his last NBA appearance, though he did play 5-on-5 earlier this week against some Mavericks interns. "He's been a great guy to have around our club," said Mavericks coach Rick Carlisle, who thinks McRoberts may be ready to play in a few weeks.
UP NEXT
Mavericks: Visit Atlanta on Saturday.
Heat: Host New Orleans on Saturday.
___
More NBA basketball: https://apnews.com/tag/NBAbasketball