Davis' 37 points leads Pelicans past Mavs, 115-105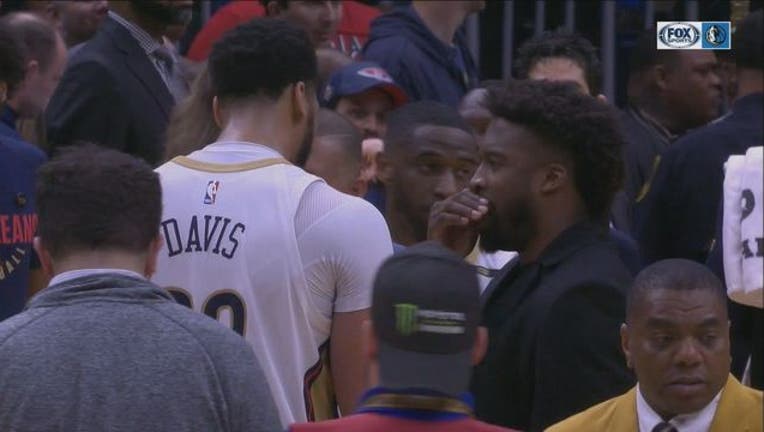 NEW ORLEANS (AP) - Anthony Davis scored 37 points, and the New Orleans Pelicans overcame the absence of second-leading scorer Jrue Holiday to beat the struggling Dallas Mavericks 115-105 on Tuesday night.
Rajon Rondo added 19 points and 14 assists, and Ian Clark also scored 19 points for the Pelicans, who are in a tight, seven-team race for one of the final five Western Conference playoff spots.
Cheick Diallo had his second straight game scoring in double figures for New Orleans to go with 14 rebounds.
Davis made 15 of 21 shots, helped by Rondo setting him up for several easy baskets inside. New Orleans shot 52.7 percent (48 of 91) as a team.
Dirk Nowitzki and Harrison Barnes each scored 19 for the Mavericks, who've lost three straight and four of five. Yogi Ferrell added 18 points, and Dwight Powell and Doug McDermott each scored 11 for Dallas, which kept the game competitive most of the way despite being out of playoff contention and without guard Dennis Smith Jr.
The Mavs did not trail by more than eight points until Rondo's step-back jumper made it 112-103 with 1:45 left. Dallas even led late in the third quarter when Ferrell's 18-footer made it 80-77, but Davis tied it with a 3 at the horn.
Dallas was still as close 106-103 after J.J. Barea's floater with 2:52 to go, but the Pelicans scored the next six points, highlighted Rondo's lob to Davis for an alley-oop dunk.
The Mavericks led by as many as 13 points in the second quarter when McDermott's 10-foot jumper capped a 14-2 run. McDermott began the surge with a layup, and Kyle Collinsworth added eight quick points on a 3, three free throws and a 10-foot floater.
New Orleans rallied to take the lead before halftime, however, thanks to a 15-2 run that began with Larry Drew's 3 and featured 10 points by Davis, including a one-handed alley-oop jam in which he spun away from Nerlens Noel to get open as Rondo released a lob from the perimeter.
Davis' free throws completed the run and gave New Orleans a 50-49 lead, and the Pelicans led 54-52 at halftime after Diallo's jumper.
TIP-INS
Mavericks: Smith was sitting out his 10th game this season and first since spraining his left ankle during a loss at Brooklyn on Saturday night. His absence meant Dallas was missing 15 points per game for the season, and 20 points per game in three meetings with New Orleans. ... The Mavs are 2-8 when Smith doesn't play. ... Barea finished with 10 points and Collinsworth eight.
Pelicans: Holiday was sitting out his first game this season. Pelicans coach Alvin Gentry said he was hoping for a quick recovery for Holiday, who averages 19 points and whose illness came as the Pelicans began a string of three games in five nights. ... Davis had averaged 28.7 points on 51.7 percent shooting in his previous three games against Dallas this season. ... Diallo's double-double was his third this season, his second in the NBA.
UP NEXT
Mavericks: Host Utah on Thursday night.
Pelicans: Host Indiana on Wednesday night.
___
More AP NBA coverage: https://apnews.com/tag/NBAbasketball