Cowboys' Romo leaves after getting pulled down awkwardly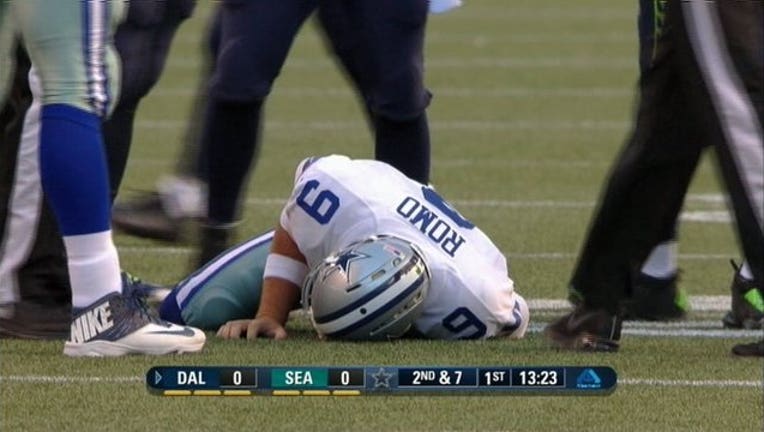 article
SEATTLE (AP) — Dallas quarterback Tony Romo lasted just three plays in Thursday's preseason game against the Seattle Seahawks after getting pulled down from behind by Cliff Avril.
Romo was forced from the pocket by a blitz from K.J. Wright. As Romo scrambled and was about to begin his slide, he was pulled down by Avril chasing in pursuit.
Romo immediately grabbed at his back and was tended to by trainers for a few minutes before popping up and walking off the field without any assistance.
Turned out it was all just a scare. Romo walked off the field without assistance, threw passes on the sideline and lobbied for a return to the game. Dallas coach Jason Garrett opted to play it safe and Romo donned a baseball hat as a spectator the rest of the night.
"I was just in shock and had my mind on just, 'C'mon, Tony. Get up,'" Cowboys owner Jerry Jones told the team's TV broadcast.
"Said a few prayers right there in the middle on the spot. Really just couldn't imagine getting that hand dealt to us. We're pleased that it's in good shape. We obviously don't need to see what Tony can do out there."
Dak Prescott took over and Jones said Romo was upset with the decision not to let him go back in.
"We don't think it's a serious thing, and we just felt better keeping him out," Garrett said.
___
AP NFL website: www.pro32.ap.org and AP NFL Twitter feed: http://twitter.com/AP_NFL