Cowboys RB Elliott has 2nd-worst rushing game of his career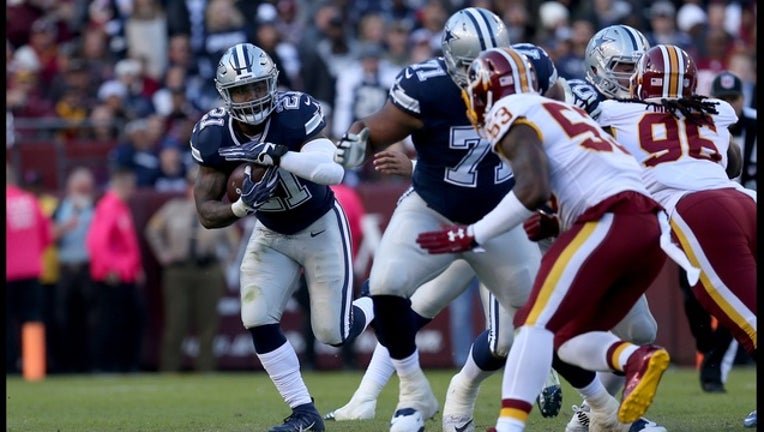 LANDOVER, Md. (AP) - It's a rather simple statistic: When Ezekiel Elliott rushes for fewer than 75 yards, the Dallas Cowboys lose.
Happened again Sunday, when Elliott was held to 34 yards on 15 carries, the second-lowest total of his NFL career, and Dallas was beaten by the Washington Redskins 20-17.
The Cowboys are now 0-3 this season - and 0-5 over the past three - when their star running back is held under 75 yards on the ground.
"It was tough sledding all day," right guard Zack Martin said. "The run game was not there at all tonight. That's our formula. We've got to run the ball."
Dallas entered the week ranked No. 2 as a team in rushing, averaging 147.5 yards per game and 5.1 per carry. As an individual, Elliott ranked second, too, with 586 yards rushing.
But against Washington, he never managed to produce a run longer than 6 yards. In the first half, he ran 10 times for 13 yards. And it never got better.
He acknowledged that his team's offense is not doing nearly as much as its defense when it comes to giving the Cowboys a chance to win, particularly in away games.
The Cowboys are 3-4 overall: 3-0 at home, 0-4 on the road.
"We got to help this defense out. This defense is playing as good as any other defense in the league - playing probably the best defense in the league - and we're not giving them any help," Elliott said. "We're not giving them any help on the road."
While some teammates offered explanations for why Washington gave Dallas trouble - the two first-round defensive linemen from Alabama, Jonathan Allen and Daron Payne, for example, or the way safeties would plant themselves in the box to stop the run - Elliott found none of that sort of talk persuasive.
He insisted that the Redskins (4-2) did nothing different to contain him.
So why did nothing work?
"We didn't execute," Elliott said.
Coach Jason Garrett said: "We tried to attack in a lot of different ways, and they defended it well."
There were, to be sure, plenty of problems spread around on his offense.
Quarterback Dak Prescott's pair of lost fumbles did not help, including one that turned into a touchdown and a 20-10 lead for the Redskins late in the fourth quarter.
Neither did several key penalties, including one that preceded that strip-sack-TD, and another that preceded the missed 52-yard field-goal attempt by Cowboys kicker Brett Maher on the last play.
"Today was a lot of penalties that kind of put us behind the chains," receiver Cole Beasley said, "and that made it tough on us."
___
More AP NFL: https://apnews.com/tag/NFL and https://twitter.com/AP_NFL