Dan Quinn to return as defensive coordinator for Dallas Cowboys
FRISCO, Texas - The Dallas Cowboys officially parted ways with six of Mike McCarthy's assistant coaches, and just after the head coach held his end-of-season press conference discussing the reason behind those moves, great news came down about his defensive coordinator.
Dan Quinn is returning as Cowboys defensive coordinator for a third season.
Last off-season, keeping Quinn from leaving for a head coaching job was the big win for the Cowboys.
It seemed like a longshot that he would stay for another season, so this is a huge win for McCarthy, Jerry Jones, and the Cowboys.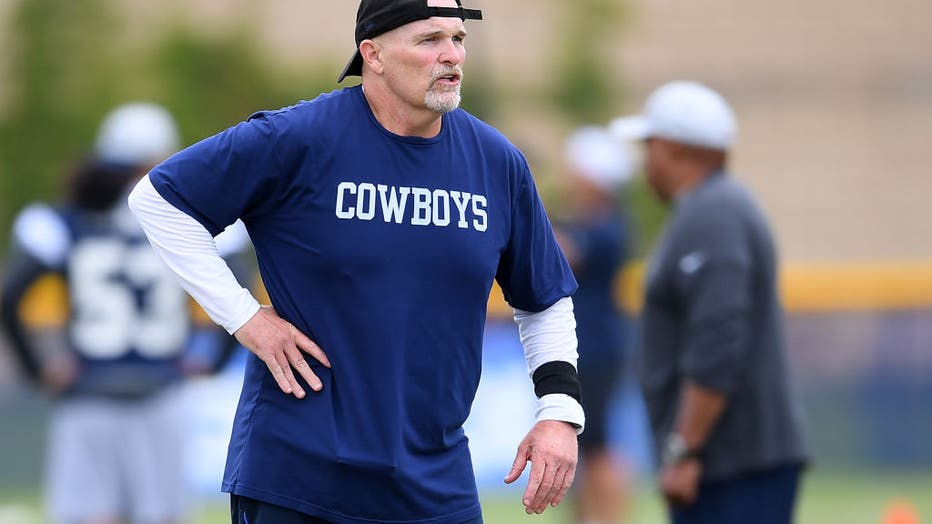 Defensive coordinator Dan Quinn of the Dallas Cowboys encourages players during training camp at River Ridge Complex on July 24, 2021 in Oxnard, California. (Photo by Jayne Kamin-Oncea/Getty Images)
Quinn recently interviewed for head coaching jobs with the Broncos, Cardinals, and Colts.
His defense has been elite since he came in, leading the NFL in takeaways the past two seasons.
They were not the problem in the team's playoff loss to the 49ers.
San Francisco had been averaging 34 points per game with quarterback Brock Purdy, but Quinn's defense held the Niners to 19 points.
RELATED: 49ers beat Cowboys 19-12 to advance to NFC title game
He also kept Tom Brady and the Buccaneers to 14 points in Dallas' playoff win.
Quinn's return comes on the heels of McCarthy choosing to let six of his 27 assistants go.
Four of the changes come to the offensive staff, with the other two on defense.
McCarthy said these changes were not strictly performance based, adding that not all of these positions will necessarily be filled.
He said he had been discussing this type of change with Jones as far back as last spring.
RELATED: Dallas Cowboys cut ties with 6 coaches, 2 others considering new jobs
When news of this turnover broke, many wondered what it meant for McCarthy's future.
McCarthy said he got some strong assurance from the man at the top that he's not going anywhere.
"He told me a number of times this week he wants me to coach here as long as coach Landry did, I think that's important," McCarthy said.
RELATED: Carolina Panthers pass on Cowboys OC Kellen Moore, hire Frank Reich as head coach
As for offensive coordinator Kellen Moore, he's interviewed for at least one head coaching job, but the Carolina Panthers hired Frank Reich as their new head coach.
If Moore doesn't take a new job, that doesn't mean he's a lock to return to the Cowboys.
McCarthy said he is still evaluating Moore and would not commit to bringing him back.