Doocy on Cowboys loss: 'This one is on the quarterback'
DALLAS - Dallas Cowboys owner and GM Jerry Jones said he was "sick" after the 19-12 playoff loss to the San Francisco 49ers on Sunday night.
The Cowboys' conference championship drought now sits at 27 years.
To make things worse, Jerry Jones' team has now gone a record 12 straight playoff appearances without making it to the NFC title game.
"This one was on the quarterback," said FOX 4's Mike Doocy on Monday morning.
After a turnover-free game in Tampa, Dak Prescott was back to his old ways throwing two interceptions.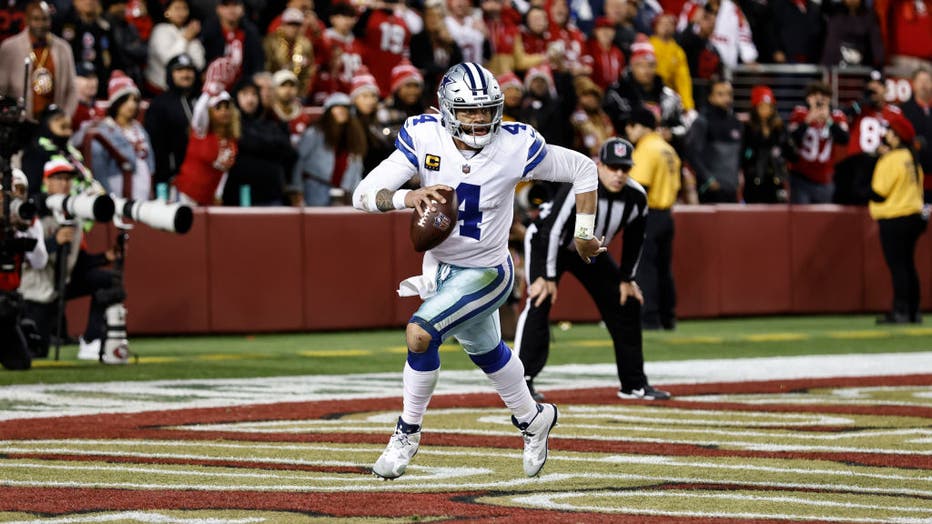 SANTA CLARA, CALIFORNIA - JANUARY 22: Dak Prescott #4 of the Dallas Cowboys scrambles and runs with the ball during an NFL divisional round playoff football game between the San Francisco 49ers and the Dallas Cowboys at Levi's Stadium on January 22,
"Disappointed in my play, disappointed for the guys in the locker room," Prescott said after the game. "It's a special team. It really is. Guys that do things the right way, prepare the right way, believe in each other, a lot of love. Yeah, it's unfortunate. It sucks."
On Good Day Monday morning, Doocy said he believes Jones is so disappointed because he knows it is a game the Cowboys could have easily won if they had just gotten decent play from their $160 million quarterback.
"He played like the inexperienced kid who was rattled by the big stage," Doocy said.
MORE DALLAS COWBOYS COVERAGE HERE
Doocy said he believes despite the loss Cowboys' head coach Mike McCarthy will be back next season.
A long offseason for the Cowboys begins on Monday, with many roster decisions ahead for the team, including Pro Bowl running back Tony Pollard who missed the second half of Sunday's game with an ankle injury.
Pollard, a free agent, was on crutches after the game.
Tight end Dalton Schultz, who scored the game's only touchdown for the Cowboys, is also a free agent.
Defensive coordinator Dan Quinn and offensive coordinator Kellen Moore are both interviewing for potential head coach positions.
"There will be some changes, whether they will be on the coaching staff or not, that remains to be seen." said Doocy. "We know the same quarterback will be back here next year and Dak Prescott is going to have to have a bounce back season if the Cowboys hope to finally break through and finally accomplish something in the playoffs next year."
Hear more from Mike and the rest of the FOX 4 sports crew every weeknight on Free 4 All at 10:30 p.m.