Cole Hamels struggles, Rangers lose to Mariners 14-6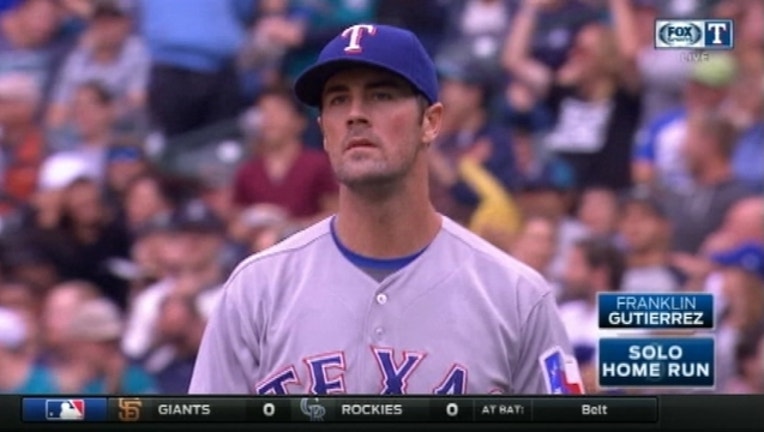 article
SEATTLE (AP) — In desperate need of getting back on a winning roll to salvage their waning postseason hopes, the Seattle Mariners beat up on Texas ace Cole Hamels for the second time in a week.
This time, though, the Mariners kept adding on.
Robinson Cano homered during a five-run first inning, the Mariners knocked out Hamels early and then Seattle pulled away with a six-run sixth inning in a 14-6 win over the AL West-leading Texas Rangers on Monday.
Cano's 32 homers this season are one off his career high set in 2012 while with the New York Yankees. The two-run shot also set the tone for Seattle's largest offensive output since scoring 14 in a win over Toronto in late July.
"Great job by our offense, just kept attacking, attacking, attacking. ... We did a pretty good job getting on their bullpen," Seattle manager Scott Servais said. "We needed it. I've said it a few times, those games are nice. Hopefully we can get some momentum going."
Franklin Gutierrez drove in four runs, including a solo home run in the second inning and a two-run double in the sixth when Seattle sent 11 batters to the plate. Gutierrez finished a triple short of the cycle.
Jesus Sucre tied a career high with three hits, including a two-run single to cap Seattle's big first inning.
Hamels (14-5) was knocked around for the second time in a week by the Mariners and failed to make it through two innings for just the second time in his career — Hamels lasted just two outs in a 2010 start with Philadelphia.
He gave up six runs and seven hits against the Mariners just last week in Texas.
Monday was even worse.
"It's just a matter of not executing pitches whatsoever. They're definitely getting themselves into hitter-friendly counts and that's a credit to what their game plan was," Hamels said. "For me, it was throwing too many pitches over the heart of the plate."
The key at-bat was Kyle Seager's two-out walk in the first inning. Seager stole second base and scored on Dae-Ho Lee's hit for an early 3-0 lead. Leonys Martin followed with a double, and Sucre's soft liner scored a pair for a 5-0 lead.
Gutierrez homered to right field with one out in the second — his 14th of the season — and Lee's second RBI single later in the inning finally ended Hamels' day.
ROCKY REIGN
Despite being staked to a 7-0 lead, Seattle starter Felix Hernandez (10-5) nearly gave it all away. Texas scored five times off Hernandez in the third inning, including a three-run homer by Nomar Mazara and RBI singles from Rougned Odor and Jonathan Lucroy. Hernandez threw 49 pitches in the inning, but managed to keep the lead. Hernandez made it through 5 2/3 innings and gave up six runs before being lifted.
Sucre said Hernandez got flustered in the third inning by a few borderline pitches that were called balls.
"It was my fault. I got out of my game a little bit there," Hernandez said.
Odor added a solo home run in the sixth inning — his 30th of the season — and has homered in five of the past six games.
TRAINERS ROOM:
Rangers: Manager Jeff Banister said "high stress" innings — multiple runners on, pitches in an inning — are factored into pitching decisions. That's one of the reasons Yu Darvish was pulled after a season-low four innings Sunday. Darvish allowed five runs on seven hits, throwing 80 pitches, but 33 were in a two-run first.
Mariners: RHP Tom Wilhelmsen, on the 15-day DL with lower back spasms, is expected to throw a simulated game on Thursday. "That's the plan with him, see how that goes," Servais said. "Once he faces some hitters, we'll see where that's at."
UP NEXT
Rangers: LHP Martin Perez (9-10) makes his career-high 29th start. He is 2-6 with a 5.73 ERA in his last 11 starts. Perez, who had Tommy John surgery in May 2014, already has pitched 169 2/3 innings this season. His high was 167 2/3 in 2013.
Mariners: LHP James Paxton (4-5) was pushed back one day after tearing a fingernail in his last start, when he came out after five innings against Texas. Paxton experienced no problems throwing on the side, but Servais said there is "a little bit more intensity on the breaking pitches" in an actual game.