Carter, Bolden lead No. 6 West Virginia over Texas 86-51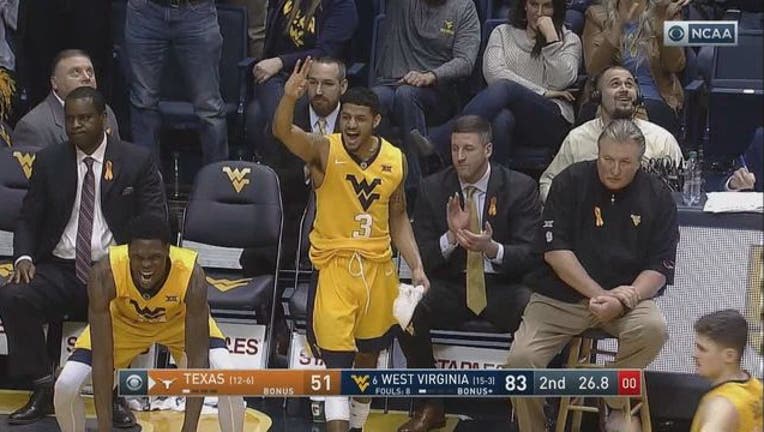 article
MORGANTOWN, W.Va. (AP) - Sixth-ranked West Virginia held onto a big lead for a change.
Jevon Carter scored 22 points and led a second-half burst that propelled the Mountaineers to an 86-51 victory over Texas on Saturday.
After surrendering double-digit leads in losses to No. 8 Texas Tech and No. 10 Kansas, West Virginia (16-3, 5-2 Big 12) broke the two-game losing streak in part by switching to a matchup zone defense to clog the scoring lane. The Mountaineers also kept from getting careless on offense.
"That's what we've been talking about all week," Carter said. "Texas Tech, we had a lead. Kansas, we had a lead. We blew them both. We knew no matter what, we had to come out and play as hard as we can" in the second half.
West Virginia made 65.5 percent (19 of 29) of its field goals after halftime, the first time in four games the Mountaineers shot better than 50 percent in a half.
"When you make shots, you like to play defense better," West Virginia coach Bob Huggins said. "We were flying around pretty good today. We tried to run the offense we're supposed to run, not whoever gets it shoots it."
West Virginia's James "Beetle" Bolden added 19 points, Daxter Miles Jr. scored 15 and Sagaba Konate had 10 points, 14 rebounds and six blocks.
After Texas played its best defense in weeks in a 67-58 win over Texas Tech on Wednesday night, the Longhorns fell apart against the Mountaineers.
Texas (12-7, 3-4) forced several turnovers and twice trimmed a double-digit deficit to eight points early in the second half. Both times the Longhorns couldn't sustain the pressure and the Mountaineers responded.
Carter scored seven points during a 15-0 run, and Miles' 3-pointer capped the rally for a 60-37 lead with 7:24 left.
West Virginia held Texas without a double-digit scorer for the first time this season. Mo Bamba, Kerwin Roach and Jacob Young each finished with nine points.
"I thought West Virginia's spirit, fight and energy was just by far superior today," Texas coach Shaka Smart said. "We didn't respond to it well enough."
BIG PICTURE
Texas: With the Big 12's lowest-scoring offense, the Longhorns have been trading wins and losses the past month. Having the league's second-best defense has kept them in games, but it could last only so long in this one.
West Virginia: The win reversed some bad vibes that occurred during the losing streak that followed a No. 2 ranking a week earlier, the Mountaineers' highest since 1959. But it won't get any easier with two of the next three games on the road and a Jan. 27 showdown looming at home against No. 18 Kentucky.
POLL IMPLICATIONS
West Virginia, which lost to No. 10 Kansas on Monday, could hang onto a Top 10 ranking after several teams lost in the past week, including No. 4 Oklahoma and No. 7 Wichita State (twice apiece) and Texas Tech.
DENIED ENTRY
Huggins said a security guard - someone who apparently didn't recognize him - initially wouldn't allow the coach to enter the building before the game.
"I said, 'I come into this door every day. Are you prepared to coach the team?'" Huggins recalled.
Huggins said he tried to call athletic director Shane Lyons but couldn't get ahold of him.
"I'm thinking maybe I got fired and didn't know it," Huggins said. "It's been a hard day."
ALLEN MYSTERY
Freshman Teddy Allen was the only available player for West Virginia who didn't see action Saturday. After scoring 20 points or more in wins over Kansas State and Oklahoma, Allen went scoreless against Baylor and Texas Tech and hasn't played in two straight games due to what Huggins said was an attitude issue in practice.
UP NEXT
Texas: Hosts Iowa State on Monday.
West Virginia: Plays at No. 24 TCU on Monday
___
More AP college basketball: https://collegebasketball.ap.org and https://twitter.com/AP_Top25
___
Follow John Raby at https://www.twitter.com/jrabyap