Browns name rookie Baker Mayfield starting QB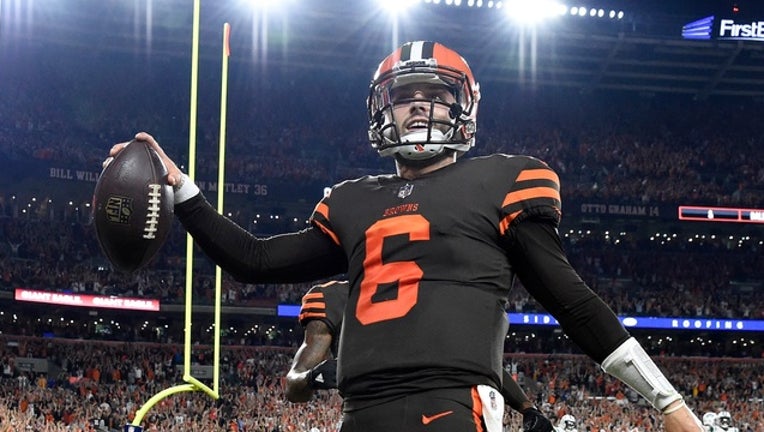 CLEVELAND (AP) - Baker Mayfield's heard all about the Browns' quarterback misery, the horrid history of failures and flops since 1999.
From Tim Couch to Jeff Garcia to Derek Anderson to Johnny Manziel and so many others, 29 quarterbacks have started in Cleveland before Mayfield, who isn't taking any pride in being No. 30.
"It's 2018," he said. "Don't really care."
But maybe 30's a charm for Cleveland.
As expected, Browns coach Hue Jackson named Mayfield the team's new starter on Monday, just days after the No. 1 overall pick replaced an injured Tyrod Taylor and dazzled in his pro debut by rallying the Browns to a 21-17 come-from-behind win over the New York Jets - Cleveland's first since 2016.
Taylor's concussion forced the Browns to alter their plans and play Mayfield sooner than anticipated.
The Heisman Trophy winner didn't disappoint.
"He went out there into some tough situations, down 14 late in the second quarter, and handled all of that extremely well and went and played well. He checked off every box for me," Jackson said.
"I am not surprised by what he did in the game. I do not think that his teammates are. I do not think that the coaches are. I think that we knew, once he got his opportunity, he would go in there and nail it.
"That is what he did."
Under the national TV spotlight, Mayfield came in late in the first half and showed a seasoned veteran's poise. He made quick decisions and even quicker throws while completing 17 of 23 passes for 201 yards in just more than one half.
It was quite an entrance.
Mayfield seemed to be the only one not enthralled with his performance, which ended with Browns fans signing his name as they partied outside FirstEnergy Stadium following Cleveland's first win in 635 days.
He has bigger plans.
"I didn't come here just to win one game and I didn't come here just to start the next," he said. "We're building a franchise here and we're turning it around. It's about culture, so being that same person every day, which means finding that happy medium, never listening to the outside noise."
Mayfield knows he's been anointed as some kind of Cleveland football savior, and he's not backing down from the job.
"That's what I signed up for," he said. "I'm living my dream and I wouldn't have it any other way. Without pressure, I don't think this would be very much fun, without all the people watching and finding joy in this game. I love this game, and without the competitive nature, I wouldn't enjoy it."
Jackson said he hopes Taylor will be cleared from concussion protocol in time to back up Mayfield on Sunday against the Raiders. If not, veteran Drew Stanton will be active.
As for Mayfield, Jackson has been impressed with his quick development and acknowledged the switch happened sooner than he anticipated.
But Jackson is also confident Mayfield is prepared to take the starting job and run with it - it's why the Browns took him ahead of every other player in the draft.
Jackson has changed QBs before. This switch feels different.
"This was a guy that we picked together, that we went all-in on unanimously and said this is the guy for the future," Jackson said, referring to general manager John Dorsey and his coaching staff. "The guy that we picked for the future of the organization is now the starter of the team."
Taylor's influence helped accelerated the learning curve for Mayfield. The Browns signed Taylor, who guided Buffalo to the playoffs last season, to serve as a "bridge" quarterback until Mayfield was ready. But although that connection is complete, Jackson said the team needs Taylor.
"He's right here, not going anywhere," Jackson said. "That's important. Part of Baker being able to play like he did was because of Tyrod and Drew, so I don't want to upset that room that way. Tyrod's going to be needed. He's the backup quarterback on this team if he's healthy. He's played and his teammates know who he is and the way he goes about the rhythm of his game.
"So I think it's always good to have that kind of depth at that position."
Mayfield's elevation was welcomed inside Cleveland's locker room by teammates who believe he's destined for greatness.
After LeBron James left this summer, the city has been looking for someone to take the NBA superstar's place.
Mayfield could be the one.
"I keep saying this is the Baker Era and stuff," wide receiver Rashard Higgins said. "If it pans out how it's supposed to be, Baker might be the next big thing. He might be on the LeBron wall."
NOTES: LB Christian Kirksey returned to practice after missing two games with a sprained ankle. ... DE Myles Garrett was on a stationary bike during the portion of practice open to media members, but Jackson said the former No. 1 pick "is fine." ... Name change: The Browns signed TE Pharaoh Brown to the practice squad and released TE Pharaoh McKever. The 6-foot-6 Browed played at Oregon and went to high school in Cleveland.
___
More AP NFL: https://apnews.com/tag/NFL and https://twitter.com/AP_NFL