Brown, Wade star as Kansas State routs No. 4 Oklahoma 87-69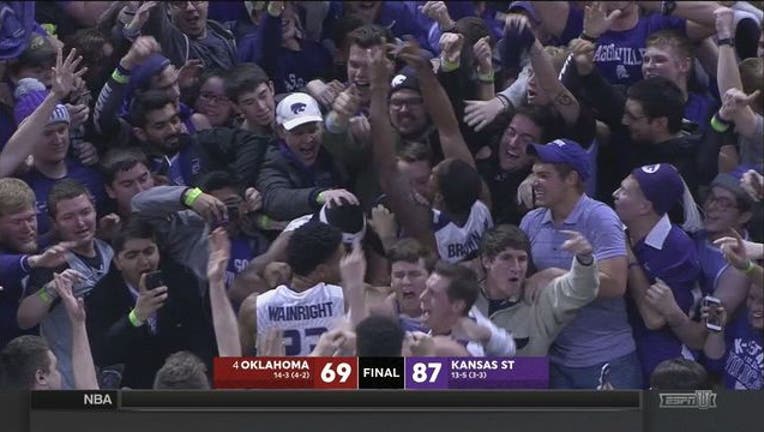 MANHATTAN, Kan. (AP) - Barry Brown scored 24 points, Dean Wade added 21 and Kansas State frustrated Oklahoma star Trae Young all game in springing an 87-69 upset of the fourth-ranked Sooners on Tuesday night.
Cartier Diarra added 16 points and Xavier Sneed had 13 for the plucky, defensive-minded Wildcats (13-5, 3-3 Big 12), who bounced back from a last-second letdown against bitter rival Kansas with their sixth consecutive win over the Sooners at Bramlage Coliseum.
Young was held to 20 points on 8-of-21 shooting, his fewest since scoring 15 in his college debut. He also was 2 of 10 from the 3-point line and committed 12 turnovers against six assists.
Rashard Odomes had 16 points and Brady Manek had 12 for the Sooners (14-3, 4-2), but he was abused by Wade at the defensive end as his team tried to dig out of a massive second-half hole.
It was the Wildcats' first win against a ranked team in four tries this season, and their first win over a top-5 team since beating the then-No. 1 Sooners two years ago.
The dominance was so complete that coach Bruce Weber subbed out his starters in the final minute, allowing an appreciative home crowd to give them a standing ovation.
Young was supposed to be the main attraction, but it was Brown - whose flub on the final play against the Jayhawks cost them a chance to win the game - who dominated on both ends in the first half.
On offense, the junior guard was able to slip past double-teams at the top of the key and pull up for mid-range jumpers, most of which splashed without hitting rim. He was 8 of 13 from the field and had piled up 16 points by the time the Wildcats took a 38-33 lead into the locker room.
On defense, Brown harassed Young into a miserable stat line: The nation's top scorer was 3 of 10 from the field, 2 of 7 from the 3-point arc and had committed eight turnovers against four assists.
It wasn't just Brown on defense, though. The Wildcats aggressively took away the passing lanes, which served to muddle up Oklahoma's offense and forced Young and his teammates into tough shots.
Young managed to draw the Sooners within 52-47 with a flurry early in the second half, but Kansas State answered with another run. Wade got things going with back-to-back baskets, Brown added another nifty tear-drop jumper, and Sneed's jam of an alley-oop pass made it 62-50 with 10 minutes to go.
Oklahoma kept trying to claw back. Kansas State kept answering, at one point making eight of nine field goals to maintain a 74-58 lead with just over 5 minutes to play.
The Sooners never made a dent in that deficit the rest of the way.
BIG PICTURE
Oklahoma was averaging 93.6 points, tops in the country, but was held to 42 percent from the field and turned the ball over 20 times against the Wildcats. Those numbers doomed the Sooners to another tough night at Bramlage Coliseum, where coach Lon Kruger's jersey hangs in the rafters.
Kansas State could have cowered after its 73-72 loss to the Jayhawks last weekend, but instead rose to the occasion. And the Wildcats did it without Kamau Stokes, one of their best players, who remains out with a foot injury.
UP NEXT
Oklahoma visits Oklahoma State for the return edition of Bedlam on Saturday.
Kansas State wraps up back-to-back home games against No. 24 TCU on Saturday.
___
More AP college basketball: collegebasketball.ap.org and www.twitter.com/AP_Top25