Brown leads No. 3 Baylor past No. 7 Texas in Big 12 final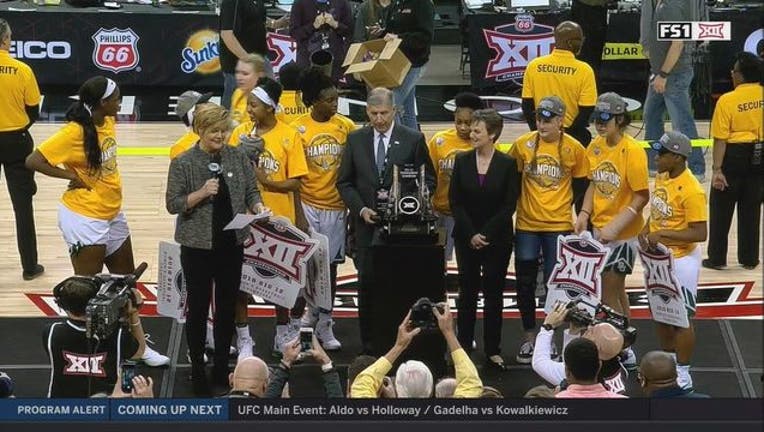 OKLAHOMA CITY (AP) - Kalani Brown scored 20 points to help No. 3 Baylor beat No. 7 Texas 77-69 in the Big 12 championship game on Monday night.
Brown, a 6-foot-7 center, was named the tournament's Most Outstanding Player after averaging 24.7 points in three games.
Freshman point guard Alexis Morris scored 19 points for Baylor. She stepped in as a starter after senior point guard Kristy Wallace, an all-conference selection, tore her right ACL in the regular-season finale. Lauren Cox had 13 points and 12 rebounds and Dekeiya Cohen added eight points and 12 rebounds for the Lady Bears (31-1), who won their 28th straight game.
Baylor had won six straight tournament titles before losing last year's championship game to West Virginia.
Lashann Higgs scored 20 points, Brooke McCarty scored 16 and Ariel Atkins and Jatarie White each added 12 for Texas (26-6).
Baylor led 35-33 at halftime. Baylor got 10 points from Brown and nine rebounds from Cohen before the break. Texas countered with 14 points from Higgs.
Brown drove for a layup in the closing seconds of the third quarter and Texas' Jordan Hosey fouled her hard. Brown was helped off the court. No flagrant was called, and Brown returned after the review. Baylor led 52-46 at the end of the third quarter.
Juicy Landrum's 3-pointer to start the fourth quarter pushed Baylor's lead to nine, and it looked like the Lady Bears might be off and running to another one of their blowouts. Instead, Texas responded with a 9-0 run. Joyner Holmes' layup with about seven minutes to play tied the score at 55, and McCarty's 3-pointer with just over five minutes to play finally gave Texas the lead at 58-57.
With Baylor leading 65-64 with 1:41 remaining, Cox was fouled by Holmes on a rebound and Cox swung her arm angrily after the contact. Aston thought there should have been a call against Cox, and her argument drew her first technical foul of the season. Cox made four free throws to make it a five-point game.
BIG PICTURE
Texas: The Longhorns are in good shape for the NCAA Tournament. Their guards played well, and their depth should serve them well.
Baylor: The Lady Bears lack depth, but their talent was enough. Morris showed she could lead the team though three games that meant something.
UP NEXT
Both teams will play in the NCAA Tournament.