Bowlsby: Big 12 schools committed to ending sexual assaults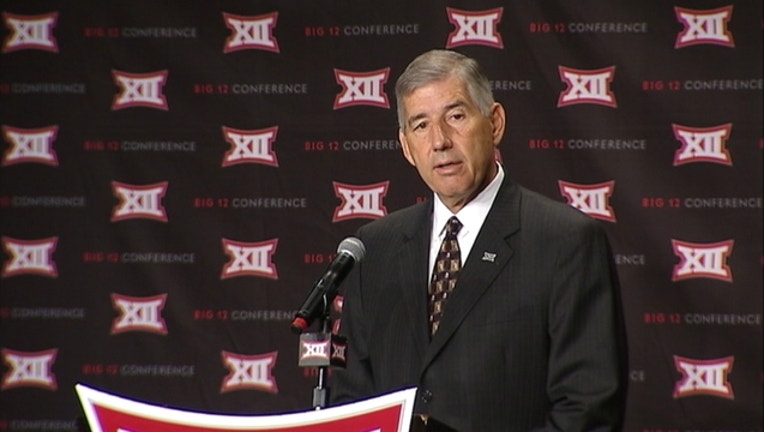 article
DALLAS (AP) — Big 12 Commissioner Bob Bowlsby said Monday that league members are committed to the difficult task of "eradicating sexual assault" on their campuses in the aftermath of a scandal at Baylor that has damaged the image of the conference.
Baylor is reeling from allegations that its staff failed to properly handle accusations of sexual assault involving some of its former football players.
"We are very committed as a group of 10 schools to eradicating sexual assault on our campuses," Bowlsby said at the start of football media days. "It almost goes without saying that when you combine alcohol and drugs and raging hormones and the experiences of 18-22 year olds, it's probably unrealistic to think that these kinds of things are never going to happen."
When the Big 12's presidents and chancellors meet privately Tuesday in Dallas, Baylor interim President David E. Garland and two Baylor regents, including the board's chairman, will make a presentation to the board.
At least three lawsuits have been brought against Baylor by women who claim the school was indifferent to or ignored claims of sexual assault and didn't enforce federal gender discrimination protections under Title IX.
The Big 12 has asked Baylor for a full accounting relative to the alleged sexual assaults on campus and the university's response. Bowlsby described that as an "ongoing process" and it was too early to know what action, if any, the league's board could take against the private school in Waco, Texas.
"There are certainly those among our board that have felt the image of the Big 12 and the other members of the Big 12 have been sullied as a result of this incident," Bowlsby said. "When one member's reputation is damaged, I think all of our images are damaged."
A 13-page findings of fact from the Pepper Hamilton law firm released by Baylor in May accused football coaches and staff of interfering with investigations into sexual assault complaints against players, and even impeding potential criminal proceedings. Bowlsby said he recently had a one-hour meeting with Garland and the regents chairman, during which the commissioner said he received a "modest amount" of additional information not in the 13-page report or the 10 pages of recommendations from the external independent review by Pepper Hamilton.
School officials have repeatedly said that is the only written report from the review that led to the demotion of Baylor President Ken Starr and the departures of athletic director Ian McCaw and football coach Art Briles.
The other Big 12 presidents and chancellors will get their chance to directly address questions to Baylor officials Tuesday.
"I think our CEOs will ask different questions than I posed. I expect to learn more tomorrow," Bowlsby said. "This is going to be a process. It isn't going to go away soon, and I don't know how to characterize it other than that."
After his opening comments Monday, Bowlsby took eight questions to wrap up his 45-minute session. Five of those questions were in reference to the Baylor situation, and he answered even more when talking to reporters in the hallway afterward.
Here are some of the other issues addressed by Bowlsby:
— When answering a question about the potential of player boycotts of events or protests on campus possibility affecting events, Bowlsby said the Big 12 staff has put a protocol together. He also brought up a more sobering thought.
"You know, I think the other thing is, we've seen acts of terror that have come where large groups of people gather and there's probably nothing more than symbolic of the American spirit than some of our public assembly venues, and frankly, I'm somewhat surprised that they haven't been targeted," he said.
— At the end of its spring meetings last month, the league announced it is bringing back its football championship game in 2017 and effectively ended talk about a league-wide television network. But there was no resolution on the topic of expansion, and if the league should expand by two or four teams — or at all. Bowlsby said conference composition is part of the board's agenda Tuesday.
"I don't want to presume what the board is going to do, but I've said publicly that I would like us to resolve these matters and that we need to not have the outstanding issues continuing to bubble," he said.
— Bowlsby expects that the Big 12 will split into divisions for football with the division champions "likely" playing each other in the championship game. He also said the title game will be played at a neutral site. A three-member advisory group will be put together to make recommendations to athletic directors that will have to be approved by the league board of directors.