3 Dallas Cowboys players among Pro Football Hall of Fame finalists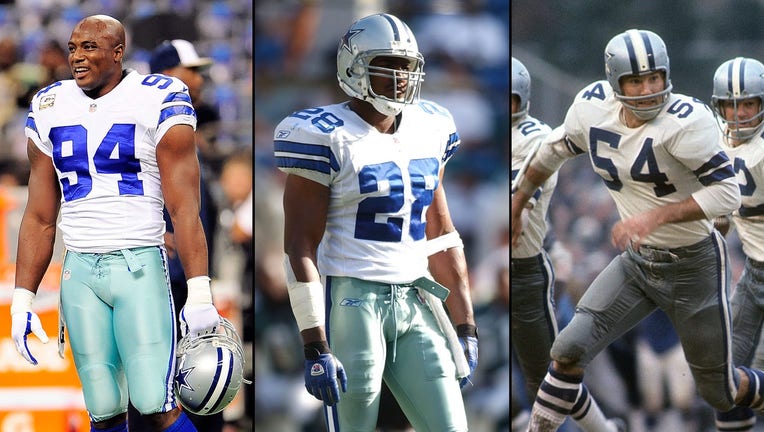 article
DALLAS - Former Dallas Cowboys players Demarcus Ware and Darren Woodson are among the 15 modern-era finalists for the Pro Football Hall of Fame.
Ware, a four-time All-Pro, led the Cowboys in sacks for eight seasons, led the NFL in sacks twice, and won a Super Bowl with Denver following the 2015 season. He finished with 138 1/2 sacks and made the NFL's All-Decade Team of the 2000s.
Woodson was a three-time All-Pro safety who helped Dallas win three Super Bowl titles in the 1990s.
MORE: Dallas Cowboys News
It's the second straight year that Ware was nominated. Woodson has been nominated for the past four years, but this is his first time as a finalist.
Both men view their nominations as a huge honor.
"We might get an opportunity to go through that tunnel one more time," Ware said. "Oh, I'mma cry. I'mma cry."
"I don't know what the reactions gonna be. It would be an emotional reaction. But it's just an appreciation of so many people," Woodson said.
Other finalists include Jared Allen, Willie Anderson, Ronde Barber, Dwight Freeney, Devin Hester, Torry Holt, Andre Johnson, Albert Lewis, Darrelle Revis, Joe Thomas, Zach Thomas, Reggie Wayne and Patrick Willis.
A maximum of five modern-day players can be elected for enshrinement in August to the Canton, Ohio, hall. 
Former Cowboys linebacker Chuck Howley was named one of three senior finalists for the hall. That means that he's very likely to get in.
Howley is the only player to ever win Super Bowl MVP honors for the losing team.
The two other senior finalists are All-Pro defenders Joe Klecko and Ken Riley. 
The committee will also consider former Chargers and Cardinals coach Don Coryell in the coaching category
The 2023 Hall of Fame Class of 2023 will be announced on Feb. 9, the night before Super Bowl 57.
The Associated Press contributed to this report.