North Texas braces for potential of widespread freezing rain
DALLAS - Another round of icy winter weather will move through North Texas on Wednesday night and early Thursday and its effects are likely to be much more widespread than what happened earlier in the day.
Forecast
A Winter Weather Advisory is in effect for all of North Texas.
The next round of precipitation will come in Wednesday night with fairly high coverage, steady drizzle and light rain with temps similar to Tuesday morning. Ice will again be an issue for many.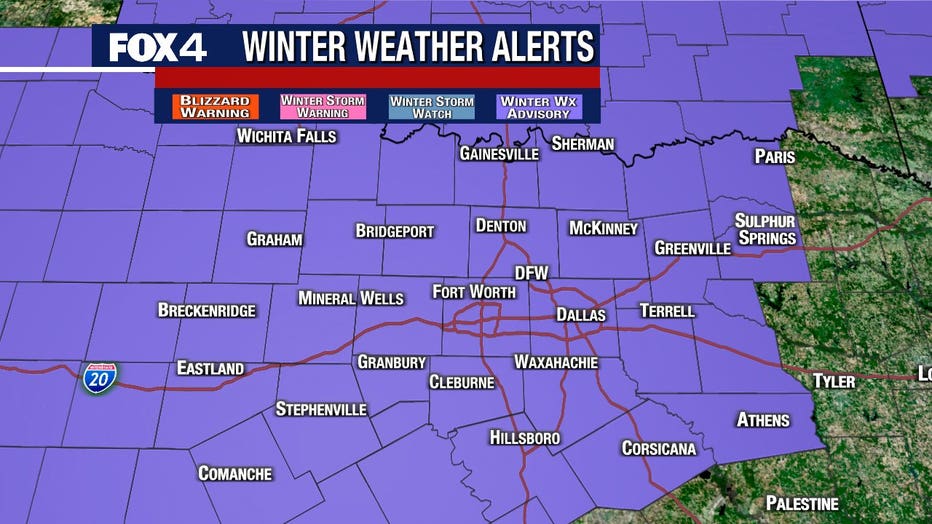 That round will exit early and just a gusty north wind will take over the rest of the day Thursday to keep wind chills in the 20s and temps barely above freezing again. The exception may be for the southeastern counties where some rain may continue.
The next disturbance arrives Saturday. The air will be a little colder so any precipitation that falls will be more of a wintry mix (sleet, ice, or even some flakes). Whatever falls should be light. Temperatures probably won't get above freezing on Saturday.
Valentine's Day looks dry but cold as Arctic air gets more intense with a north breeze. Highs will be in the 20s and the lows will be in the teens!
Sunday night into Monday there are many signs of a storm that will produce snow with very cold temperatures. With snow on the ground, Tuesday morning, record cold is likely.
Follow the FOX 4 Weather team on Facebook and Twitter for the latest updates. Download the FOX 4 WAPP to keep an eye on the radar, school closings and more.
Traffic
Road crews treated highways ahead of the winter weather and brine trucks were out spraying a salt and water solution onto main lanes, bridges and overpasses.
The Texas Department of Transportation said it should prevent a lot of ice buildup. Crews will begin 12-hour shifts once conditions get worse.
"We're well prepared for a multi-day event. We know how ice reacts to our treatments when the temperatures get into the teens. We'll adjust accordingly," said Val Lopez, a spokesman for TxDOT.
The National Weather Service did say there's a chance of damage to trees and power lines with this ice. Obviously, being without power could prove dangerous given how cold it is.
Oncor says it has pre-positioned crews and equipment to respond to any outages. But based on the current forecast, it does not expect anything major.
"Right now, we do not see a great chance of the accumulation of ice on our equipment to cause widespread issues," said Oncor spokesperson Juan Reyes. "One thing that we do see at time during weather like this is traffic accidents and things of that nature. So we want to remind our customers to be safe on the roads and be prepared and take precaution."
Oncor says if there are outages, crews will work on restoring power as soon as it is safe.
For traffic updates, follow FOX 4's Chip Waggoner on Twitter. Download the FOX 4 Fastlane app for the latest traffic conditions.
Schools
Some North Texas school districts already have started delaying and canceling classes for Thursday.
Several other districts will be holding classes by remote learning only, including DeSoto and Ennis ISD.
Dallas ISD says its monitoring weather conditions closely but has not announced any changes for Thursday.
DISD says if roads become unsafe for travel Thursday morning, it will transition to remote learning only.
Arlington ISD says it will make a final decision early Thursday morning
FULL LIST: Closings/Delays