Video shows suspect in Irving road rage shooting
IRVING, Texas - A road rage incident last month now posted to social media by Irving police is getting a lot of attention.
This one happened in Irving on the morning of June 15.
Police think it could have all started over a parking spot at 2801 Market. It ended about a half-block away on Valley View.
"What we know is the two vehicles, which was a white BMW and a maroon Chrysler 200, they were involved in some sort of altercation," said Irving Police Officer David Dickinson. "The individual in the Chrysler 200 left the location and the BMW took off after that subject. The BMW pulled in front of the Chrysler, exited the vehicle and began to fire shots towards the maroon Chrysler."
The video shows the BMW driver shooting one gun, putting it down, picking up another and firing more.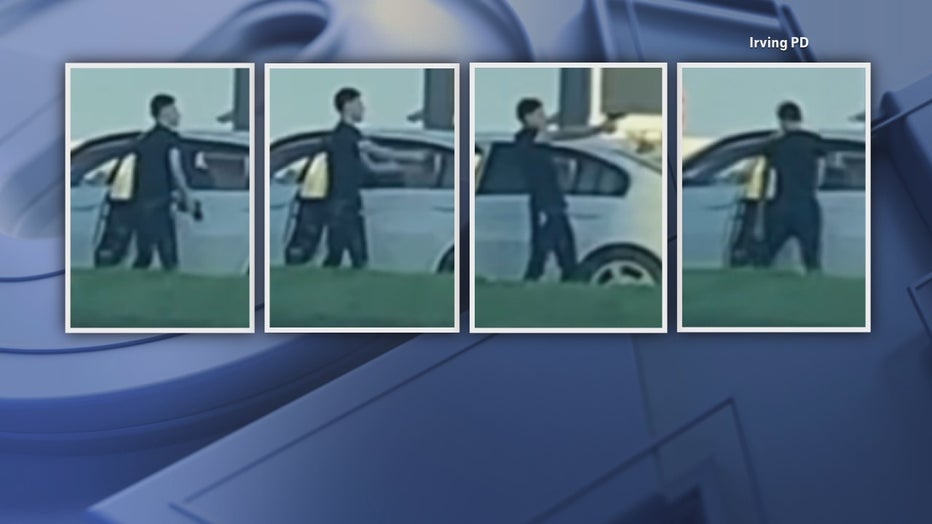 One man, who asked that FOX 4 not show his name or face, says he saw it all. 
"Just as soon as I crossed the left lane, I heard a 'Pop! Pop!'" he recalled. "There was another figure coming with his arm extended. All I heard was, 'Pop! Pop! Pop! Pop!'"
The man says he tried to stay low and find a safe place.
"I continued to hear more gunfire and I just thought wow!" he said.
Doubly shocking is the continued shooting with a second gun.
"There's a huge chasm between the legal possession and carrying of a firearm in the state of Texas and then the kind of deadly conduct that you saw exhibited in that video," Dickinson said.
The area at 7:25 a.m. was teeming with people.
"Not only could innocent persons have been hit, there were actually several vehicles that were struck by gunfire," the officer said. "One of those vehicles was occupied, and thankfully nobody was injured."
Police need to find the drivers of the BMW and the maroon Chrysler 200.
"Nobody wants this kind of activity taking place on the streets," Dickinson said. "Whether it's where they work or where their kids go to school, so we can hold these guys accountable, which is what the Irving Police Department is committed to doing."
Like other cities, Irving is not immune to this increase in road rage incidents. And like other municipalities, Irving police now has a special unit to address aggressive drivers.
Irving police are asking anyone who recognizes the man or the cars in the video to call them.